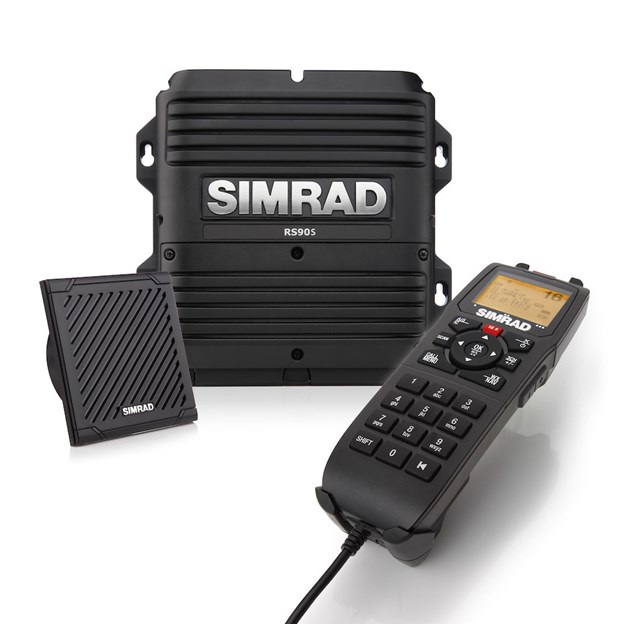 "https://www.simrad-yachting.com/assets/img/default-product-img.png?w=400&h=225&scale=both&mode=max"
RS90S VHF Radio with AIS
SKU: 000-14531-001
000-14531-001
Stay connected in every way with the RS90S, a modular and highly expandable VHF radio with built-in AIS receiver and GPS. Connect up to four wired and two wireless handsets to create the ultimate vessel-wide intercom and VHF communications system. Includes one wired handset and an external speaker.
Product details
A Modular System to Fit Any Boat
The RS90S is a modular VHF system that's expandable and customisable to suit any boat and any on-water communication needs. One wired handset is included, but a single RS90S system can run up to six separate handsets: four wired, and two wireless. Multiple handsets can be used together as a vessel-wide intercom system, keeping crewmembers in contact wherever they are on board. An external speaker is also included; outputs are provided for up to three additional speakers, and one optional loudhailer/foghorn.
Designed for Clear Communication
This Class D DSC approved radio can send and receive DSC distress signals including position data. An integrated GPS receiver enables your position to be sent with distress calls, even if your boat's other electronics are powered down. The RS90S also supports direct calling to other DSC-equipped radios, making it easier than ever to communicate with other mariners. Dual-channel watch lets you monitor the current channel and emergency channels, and a record-and-replay feature helps to ensure you never miss an important call.
Integrated AIS Receiver
A built-in AIS receiver monitors the position of nearby AIS-equipped vessels, perfect for avoiding collisions in crowded harbours and busy waterways. AIS information can be viewed on a handset or a compatible multifunction display. The RS90S uses the same antenna for both VHF and AIS, simplifying installation and minimising wiring. AIS data is output over an industry-standard NMEA 2000® connection.
Key Features
Premium modular VHF radio
Up to 6 handsets: 4 wired and 2 wireless
Includes one HS90 wired handset and external speaker
Works with the optional HS35 wireless handset
Class D DSC functionality
Integrated GPS receiver enables standalone DSC distress calls
Dual and tri-channel watch functions
Optional hailer and foghorn support