Simrad® supports NGO Open Arms
Open Arms is a Spanish based NGO devoted to search and rescue in the Aegean and Central Mediterranean seas. Since 2015, Open Arms have saved more than 60,000 lives.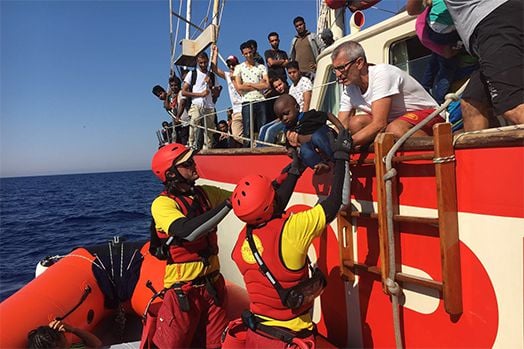 Having the right equipment on board their fleet of vessels is paramount to their mission success. In 2019 Simrad and Open Arms forged a partnership, with Simrad kitting out a number of their boats including the iconic sailing boat Astral. It is very unusual for a sailing boat to be used for search and rescue purposes, but being powered mostly by the wind means that running costs are low, plus the boat is much larger than many others in their fleet, meaning they can rescue larger groups.
Astral is a 31-meter vessel, built back in 1970, that was gifted to Open Arms in 2016. Following the partnership with Simrad the equipment on board was fully updated and Astral is now fitted with a comprehensive Simrad system. On board they have the latest HALO24 pulse compression radar, delivering industry-leading 360-degree sweeps every second at close range, as well as high-quality short, mid and long-range detection, which means that targets can be seen vividly - even in the toughest environmental conditions. Astral also features NSSevo3 12" chartplotters and IS42 digital displays.
Simrad have also assisted Open Arms to update the navigation equipment on some of their RIBs including Gomona, which features the Simrad NSSevo3 7" chartplotter, RS20S VHF radio and AIS class B NAIS 500 transponder. Supporting the Open Arms fleet with the latest technology, means that the team can navigate safely while searching for vessels in distress.
"The Open Arms fleet is now equipped with the best technology, which helps us to navigate safely and search for vessels in distress. Thanks to Simrad we have been able to improve the Astral's electronics equipment as well as some of our RIBS'."
Gerard Canals, Head of Operations at Open Arms
Gerard Canals

Head of Operations

Savvas Kourelpinis

Captain