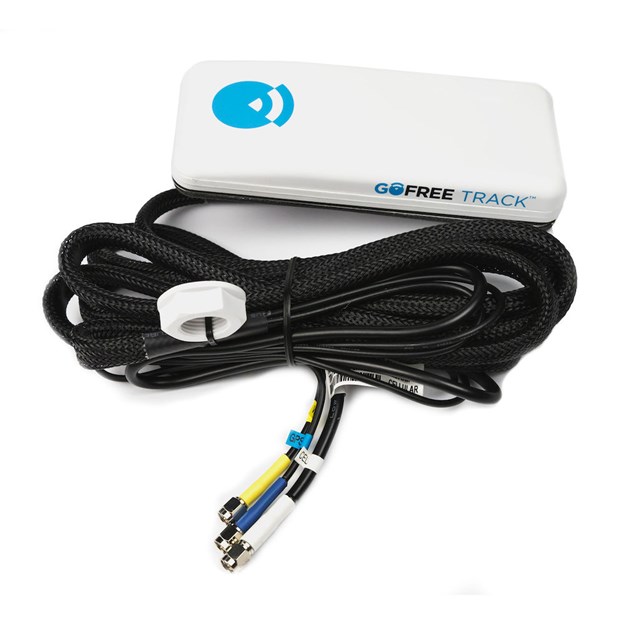 "https://www.simrad-yachting.com/assets/img/default-product-img.png?w=400&h=225&scale=both&mode=max"
TRACK-Cell-Fi kit
SKU: 000-12616-001
000-12616-001
Don't worry about your boat – Track it. Relax and find peace of mind with the ability to monitor your boat's location and security status, 24/7, anywhere in the world. Track is a flexible, low-cost telemetry solution that records your boat's location, security status, and engine performance in real-time. That information is sent securely and automatically to the GoFree cloud, where you can access it through your personal dashboard on any PC or mobile device.
Product details
Real-Time GPS Tracking with Geo-Fence Zones
Your boat's location is automatically uploaded to the GoFree cloud; at any time, you can also request an instant update of your boat's current latitude and longitude. Configure your boat's base location with up to two custom "geo-fence" zones. When your boat exits or enters these zones, you'll be informed with an email update – giving you peace of mind that your boat's where it should be.
Remote Control
With select plans, Track gives you the ability to remotely control up to three on-board circuits. Control lights, HVAC, or other functions from anywhere in the world. Remote control lets you respond to unexpected situations, as well as offering simple conveniences such as turning on exterior lights before you board.
Reliable 24/7 Monitoring
Track constantly monitors, logs and transmits important vessel security information, navigation data, engine information and sensor data to the GoFree cloud. An internal back-up battery enables recording and transmitting for up to 30 days after all external power has been depleted. If none of your selected communication channels are available, Track automatically stores over a month's worth of complete vessel, engine and navigation data on-board for later transmission or retrieval.
Multiple Engine and Sensor Support
Track can record performance information and alerts for up to five engines. The system supports both NMEA 2000® engines and J1939 diesel engines, delivering a suitable telemetry solution for any boat type. Track also records information from your boat's NMEA 2000® data bus, and supports a range of add-on security and status sensors.
Automated Alerts
It's important to know about critical security or performance issues immediately, not the next time you check your dashboard. Track can deliver real-time email alerts as issues occur, with links to pre-recorded vessel data to help you get a handle on the situation and diagnose problems as quickly as possible.
Communication Options
We offer a range of communication options to suit different types of boat and different areas of operation, for the individual boat owner to the multi-boat fleet manager. Choose between Wi-Fi connectivity, cellular coverage, or global satellite coverage – each available with Standard Definition (SD) or High Definition (HD) reporting plans.
Boat Maintenance
Poor boat maintenance can cost you both time on the water and increased repair bills. Send automatic email alerts to any set of email addresses you choose – including regular service and support providers. As issues occur, your nominated service technician and/or dealer can access relevant diagnostic recordings – allowing some issues to be diagnosed and appropriate maintenance planned before your boat even comes in to the marina.
Cloud Storage
Track is GoFree cloud-enabled, allowing you to access, share, and store trip photos and important vessel documents such as work orders, invoices, and maintenance notices for your boat. This makes it simpler for you and your service technician to stay aligned on the service and maintenance status of your vessel by making vessel documents easy to access and share. All system and alert data is transmitted and stored directly in the GoFree cloud, allowing you instant access to the latest recorded vessel information from anywhere.
Improved Efficiency for Fleet Owners
Fleet owners benefit by knowing exactly how their boats are being used. Track allows owners to examine fuel levels, boat speeds, and engine runtime data – even while their boats are still away from shore. This allows you to plan for proper boat use, which can improve the lifetime value of your boat investment.
Fleet Management
Whether you want to monitor one boat or one hundred boats, all your vessels become part of a fleet and each boat will have a unique online dashboard. Since boats are members of a fleet it's easy to group them together and keep them safe with the same geofences and support personnel.
TripReplay™
Track makes it easy to save and share your greatest boating memories online. Every time you use your boat, Track automatically captures your boat's location, current weather conditions, depth of water, even your engine performance data. The TripReplay™ feature lets you "play back" your trips, add your own trip photos, and share trip records via email, text, or social media.
Key Features
Track your vessel's travel history and create customisable geo-fence zones
Remotely control systems such as lights, air conditioning, and refrigeration
Reliable 24/7 monitoring with internal battery backup and memory
Connect multiple security sensors, NMEA 2000® devices, and J1939 diesel engines
Stay informed of issues with real-time email alerts
Choose from Wi-Fi, cellular, or satellite communication options
Reduce maintenance costs through online fault monitoring, playback, and diagnostics
Secure cloud data storage provides access to your boat's information any time, anywhere
Easily manage fleets, from small local charters to global operations
Save and share your best boating moments with TripReplay™