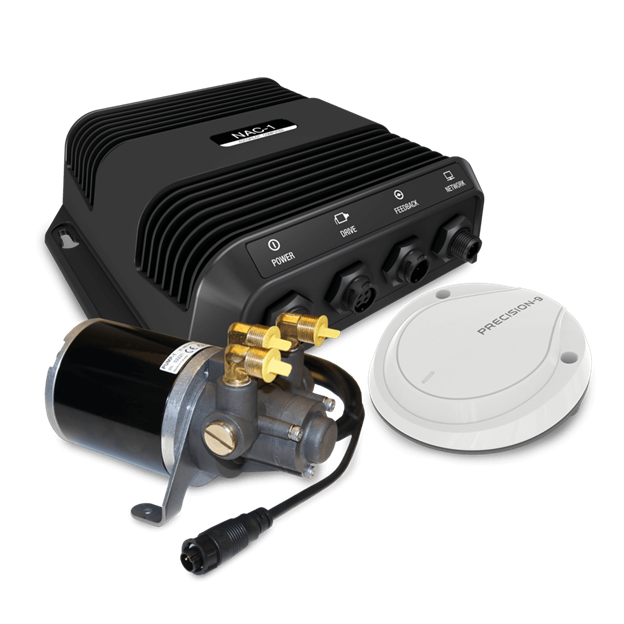 "https://www.simrad-yachting.com/assets/img/default-product-img.png?w=400&h=225&scale=both&mode=max"
DrivePilot Hydraulic-Steer Pack
SKU: 000-11750-001
000-11750-001
The DrivePilot pack includes everything you need to fit a Simrad autopilot to your hydraulic-steer outboard or inboard vessel, including a commercial-grade rate compass perfect for high-speed vessels. Designed for boats nine metres (30 feet) and under, DrivePilot is easy to install and integrates seamlessly with Simrad multifunction displays.
Product details
Simrad Multifunction Display Integration
Designed to work with your Simrad chartplotter navigation display, the DrivePilot pack doesn't require a dedicated autopilot head unit – perfect for smaller vessels with limited helm space. Set your heading, steer to a waypoint, or follow a predefined route, right from your existing Simrad display. A single dash-mounted auto/standby button lets you enable the autopilot with ease, or take manual helm control in an instant.

Easy to Install
This comprehensive kit includes everything required for a professional or DIY autopilot installation, including a super-quiet hydraulic steering pump for distraction-free operation. Detailed step-by-step instructions are provided, while pre-fitted plug-and-socket connectors make installation quicker and easier than ever. Simrad Virtual Rudder Feedback technology eliminates the need to install a mechanical feedback sensor on most outboards and sterndrives, while delivering smooth and reliable steering performance. An optional rudder feedback sensor is available if required.

Simple System, Great Performance
The DrivePilot pack includes a commercial-grade RC42 rate compass, providing enhanced auto-steering response aboard high speed vessels. This makes DrivePilot a great alternative to our Outboard Pilot pack for high-performance sportboats and sportfishing machines. Automatic turn patterns make manoeuvres such as U-turns simple and fuel-efficient, while more complex patterns support fishing and other on-water activities. DrivePilot also offers automatic Depth Contour Tracking that's perfect for anglers fishing ledges or drop-offs, and also a great way to cruise along the coastline while automatically maintaining a safe depth beneath your boat.
Key Features
Complete autopilot system for hyraulic-steered outboard and sterndrive vessels
Intuitive autopilot control from your Simrad multifunction display
Includes a commercial-grade rate compass perfect for high-speed vessels
Powerful features including turn patterns and Depth Contour Tracking
Suitable for boats measuring nine metres (30 feet) and under
Perfect for DIY installation with a straightforward, step-by-step guide
Simple plug-and-socket connection with no complex terminal wiring