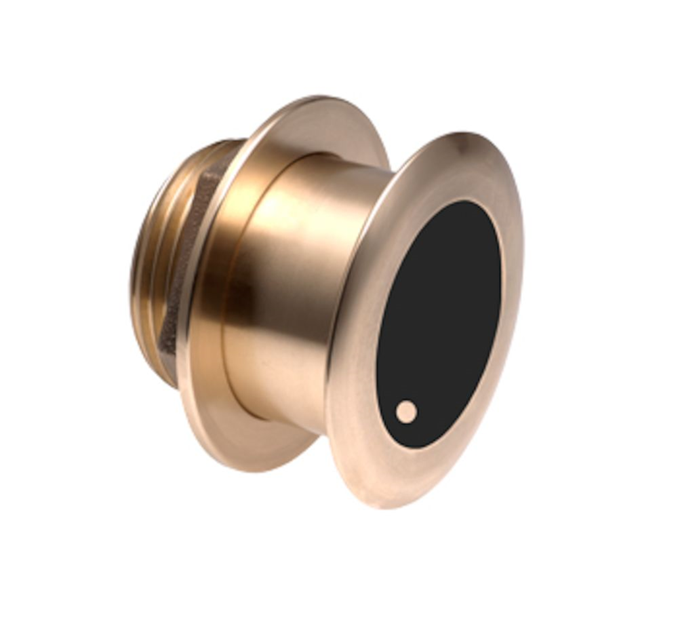 "https://www.simrad-yachting.com/assets/img/default-product-img.png?w=400&h=225&scale=both&mode=max"
B175H-W/0 BRONZE 0 DEGREE
SKU: 000-11689-001
000-11689-001
The B175H-W is a bronze, thru-hull CHIRP transducer, ideal for sportfishing and commercial vessels up to 8 m (25 ft) in size. This single-channel transducer offers High CHIRP combined with a wide beam for the best resolution and coverage in shallower depths.
Product details
Single Channel CHIRP
Using pulsed transmissions swept across a range of frequencies, CHIRP technology delivers superior target resolution and depth penetration to traditional single-frequency sonar. This single channel CHIRP transducer operates anywhere in the 130-210 kHz High CHIRP frequency range, with a 25° beam width. With High CHIRP, the B175H-W provides an operating depth of up to 310 m (1000 ft).

Wide Angle CHIRP
Ideal for anglers, the B175H-W's wide-angle technology delivers a constant 25° beam width across the transducer's 130-210 kHz High CHIRP frequency range. This achieves up to double the coverage beneath your boat, and provides enhanced fish detection in the upper water column, versus the narrower beam of other high-frequency CHIRP transducers.

Depth/Temperature
One sensor does it all. Able to measure both depth and temperature in a single package, the B175H-W simplifies installation and requires just one connection to your echosounder module or multifunction display.

Deadrise Compensation
The B175H-W is also available in 12° and 20° fixed tilt versions to compensate for hull deadrises of 8-15° and 16-24° respectively. With ceramic elements tilted inside the housing to aim the beam straight down without a fairing block, these transducers are able to deliver more accurate depth readings and best cover the area directly beneath your boat.

Mounting
With bronze housing, the B175H-W is suitable for thru-hull mounting in fiberglass and wood hulls. Thru-hull mounting places the transducer in the water on the outside of your boat's hull; a hole must be drilled for installation. This typically offers the best depth measurement and fishfinding performance.
Key Features
130-210 kHz High CHIRP with wide 25° beam for excellent fish targets
Up to 310 m (1000 ft) range with High CHIRP
1 internal broadband ceramic
Thru-hull with bronze housing
Suitable for fiberglass and wood hulls
Ideal for sportfishing and commercial vessels up to 8 m (25 ft)
Available in 0°, 12°, or 20° tilted versions
Recommended for use with the BSM-3 broadband sounder module, SonarHub sounder module & Simrad NSS evo2 multifunction displays