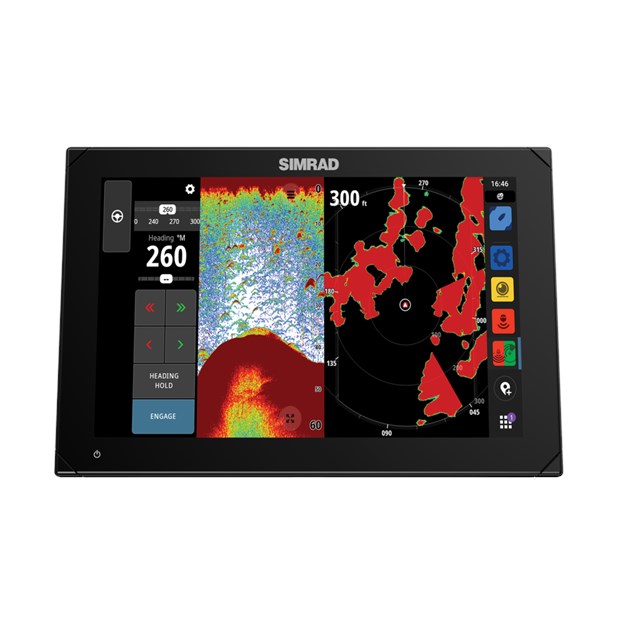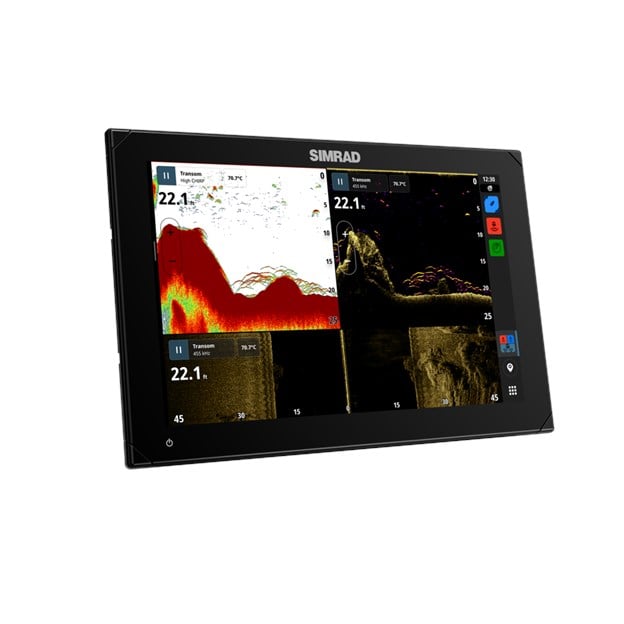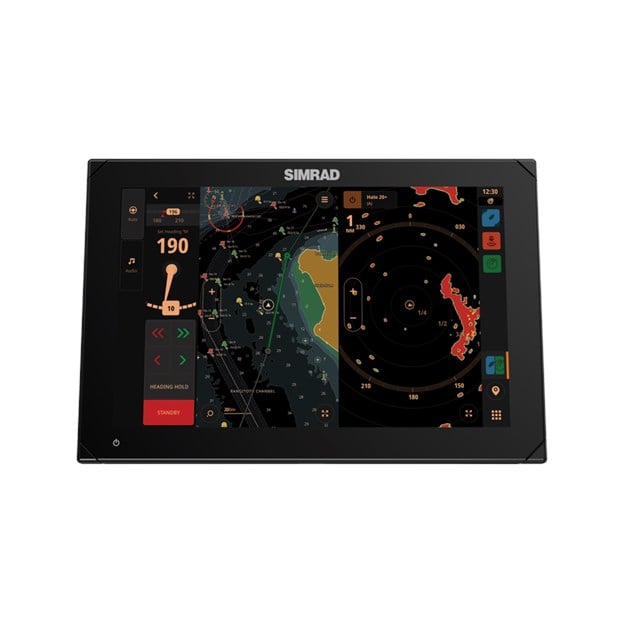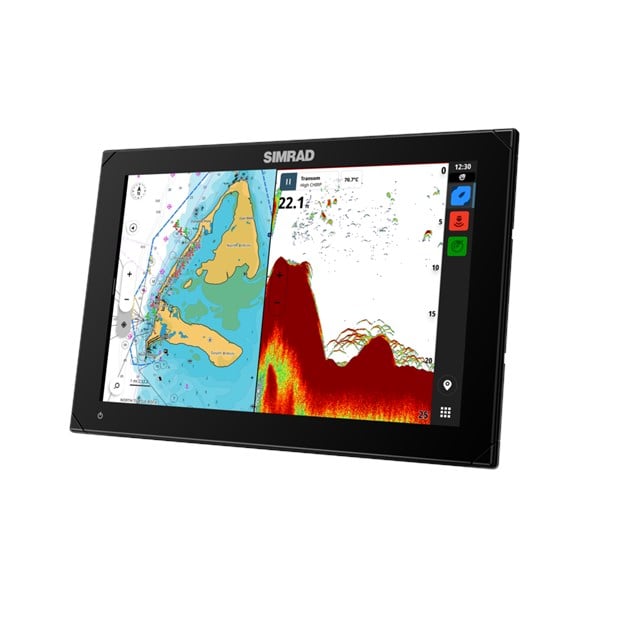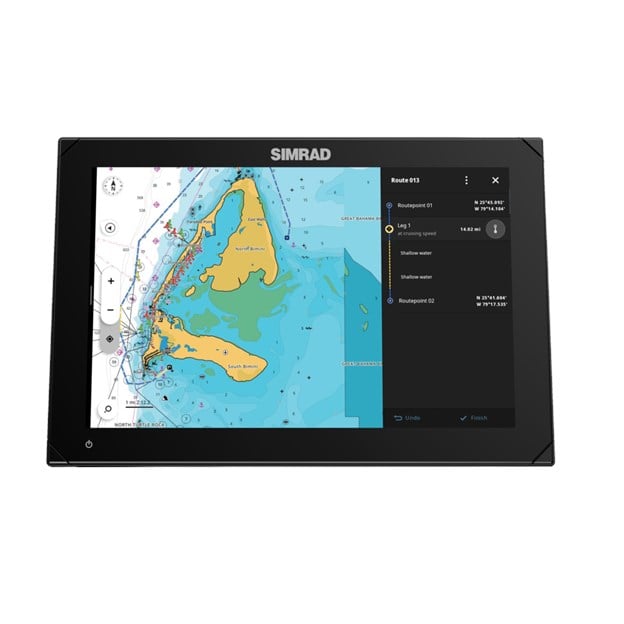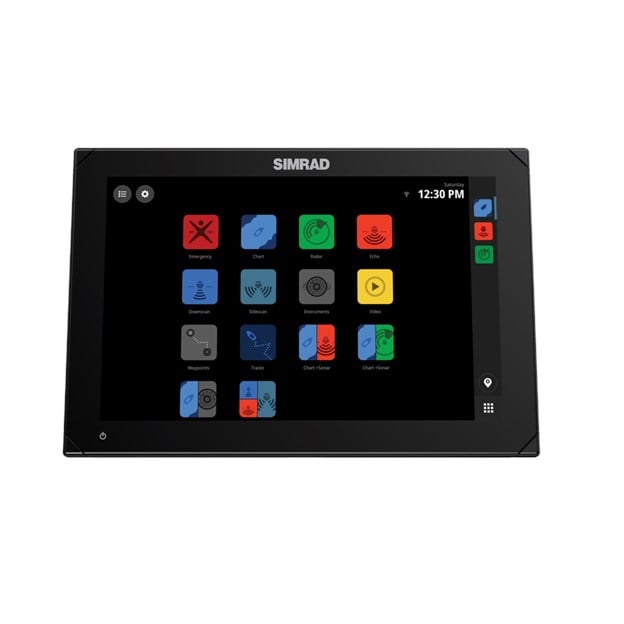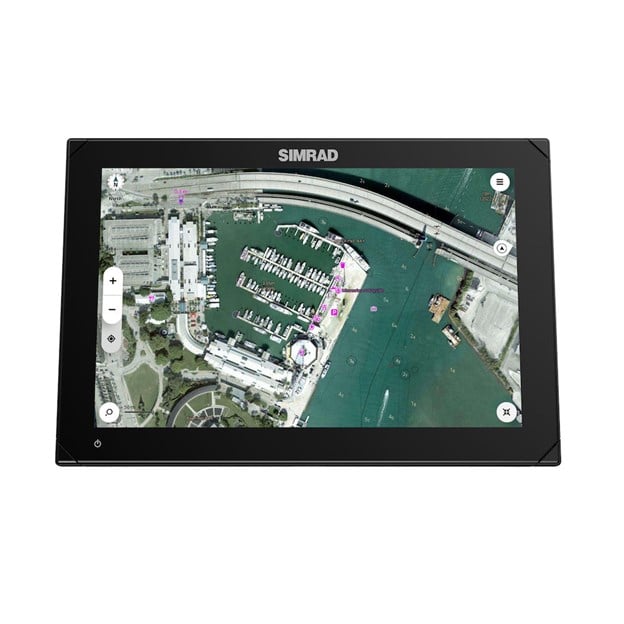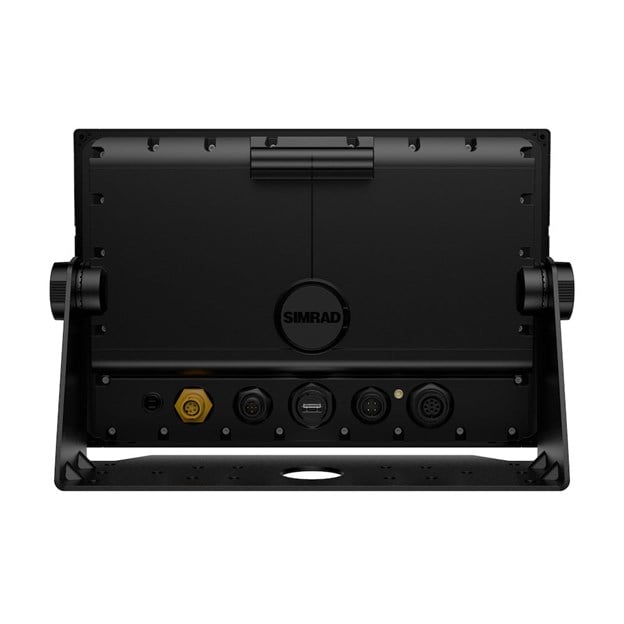 "https://www.simrad-yachting.com/assets/img/default-product-img.png?w=400&h=225&scale=both&mode=max"
NSX® 3012, No Transducer
SKU: 000-15223-001
000-15223-001
The future is here with NSX®. Experience the simplicity of our latest operating system, introducing a redesigned charting experience, our fastest-ever auto-routing, and seamless integration for total control of your boat. NSX comes fully-equipped with integrations for Sonar, Radar, and Autopilot Systems.
Crafted specifically for fluidity and ease of use, with NSX you'll spend less time on the screen, and more time on your next adventure. 
Unlock the full Simrad suite
NSX integrates seamlessly with the full suite of Simrad electronics, giving you full visibility and control across your entire boat. Get enhanced safety with our latest HALO® radars, up your fishing game with our new S3100 sonar module, or take a break from the helm with Simrad Autopilot.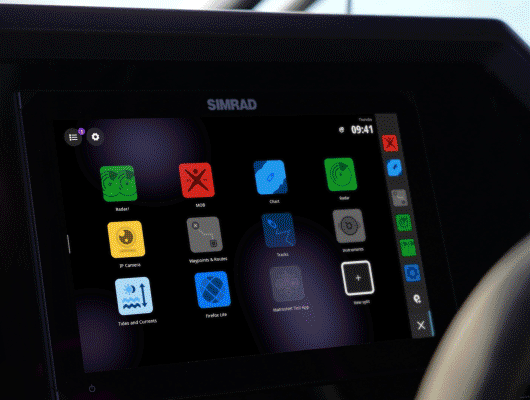 Embrace sonar sharing*
Take your fishing game to the next level with sonar sharing. Add another NSX display to your angling arsenal to double-up and monitor your sonar feeds from anywhere on-board.
Enhanced third-party integration
Enhanced third-party integration means the fluid experience extends beyond the world of Simrad. Feel more in control with full support for Mercury® engines, including cruise control, active trim, and VesselView®, with Mercury SmartCraft® Connect, unlocking autopilot features and a split screen interface.
Complete your set-up with support for OmniSense cameras, Dometic climate control systems, and LED lighting from Lumishore.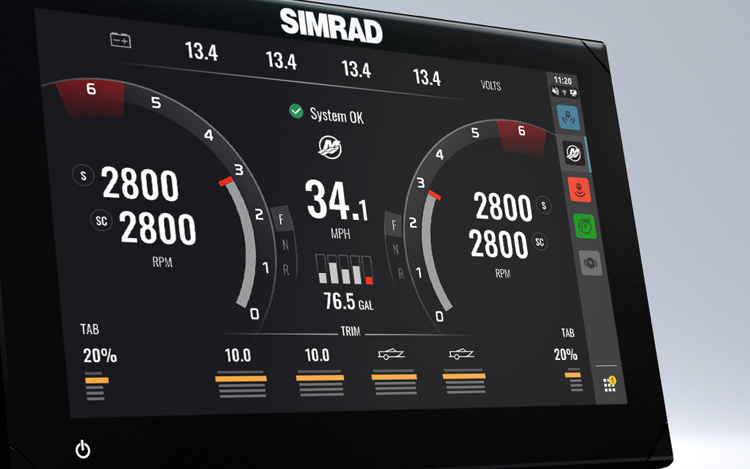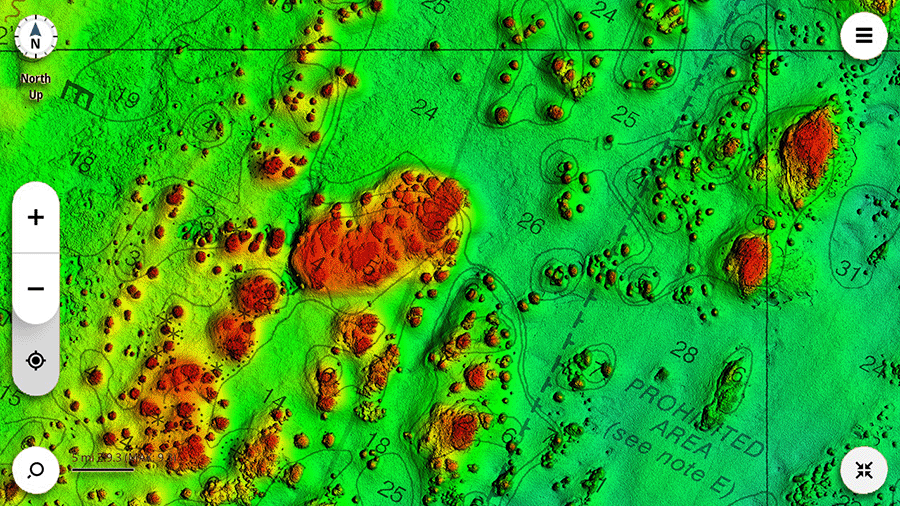 Choose your own charts
For total flexibility, NSX is now compatible with a range of third-party chart providers, including CMOR Mapping, and plenty more to come...*
*Florida Marine Tracks, Standard Mapping, StrikeLines, and others in development for 2023

Big screen, small footprint
NSX delivers more screen size for the overall footprint of your product, so you can see more and take up less space in your cockpit.
That's why NSX is the perfect choice for any mid-sized center console, dayboat, or other leisure-activity powerboat.

Functionality in all conditions
Even the touchscreen on NSX is built for adventure. With SolarMAX IPS technology, you can view the display at any angle, in direct sunlight, and with polarized sunglasses.
Connect the Simrad® App
Take your boating adventures home with you, using the Simrad Companion App. By pairing your smartphone with your NSX, you can pre-plan trips, review tracks, plot Waypoints, and sync directly to your device.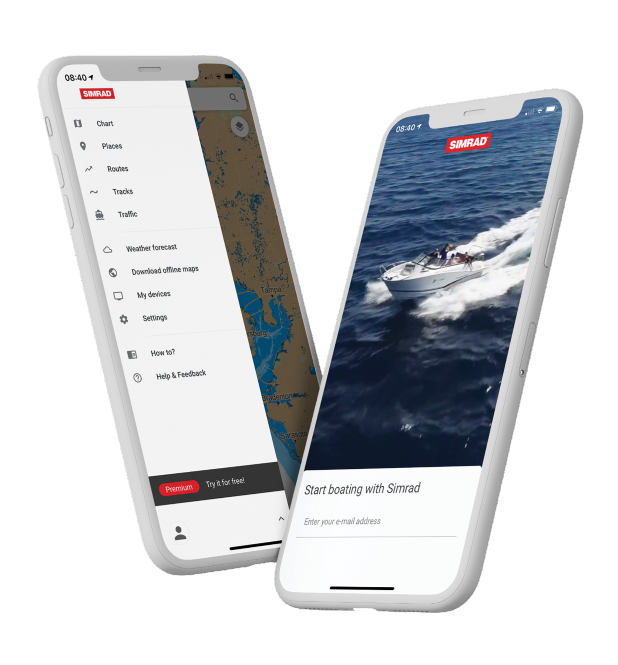 Key Features
Sonar sharing
Full Mercury Integration, inc. SmartCraft® Connect and VesselView®  
SolarMAX™ IPS HD touchscreen with extreme viewing angles 
Compatible with Active Imaging™, featuring CHIRP, SideScan, and DownScan Imaging™, as well as the S3100 & S5100 sonar modules  
Compatible with C-MAP® DISCOVER™ X AND REVEAL™ X charts 
Support for additional charting, such as CMOR, Florida Marine Tracks, Strike Lines and Standard Mapping *US Only – to come in 2023* 
See near and far with full HALO® radar support 
Easy autopilot integration 
Excellent third-party integration, inc. CZone®, OmniSense, Dometic, Lumishore and more...  
Simrad® App integration 
Wireless connectivity, plus full Ethernet, USB, and NMEA 2000® networking capability 
IP Camera video support  
New Setup Wizard to get you up and running quickly
Specifications
Display

Display Resolution

1280 x 800 px

Screen Brightness

>1200 nits

Viewing Angles

85° (top, bottom, left, and right)

Physical

Compass Safe

50 cm (1.7 ft)

Dimensions W x H x D

With bracket: W: 319.5 mm (12.58") x H: 215.1 mm (8.46") x D: 86.0 mm (3.38") No bracket, no suncover: W: 309.5 mm (12.19") x H: 208.4 mm (8.20") x D: 86.0 mm (3.38") No bracket, with suncover: W: 314.5 mm (12.38") x H: 213.3 mm (8.40") x D: 91.0 mm (3.58")

Mounting Type

Bracket (supplied), panel mount or flush mount

Electrical

Power Consumption max

29.7 W (2150 mA at 13.8 V)

Recommended Fuse Rating

3A

Supply Voltage

12 V DC (10 - 17 V DC min - max)

Environment

Humidity

IEC 60945 Damp heat 66°C (150°F) at 95% relative (18 hr)

Operating Temperature Range

-15°C to 55°C (5°F to 131°F)

Shock Vibration

100,000 cycles of 20 G

Storage Temperature Range

-20°C to 60°C (-4°F to 140°F)

Waterproofrating

IPx6 and IPx7

Connectivity

Bluetooth

Bluetooth 4.0 with support for Bluetooth Classic

Ethernet Ports

1 port (5-pin connector)

Connectivity Wi Fi

IEEE 802.11b/g/n

N2K PG Ns

Receive only 59392 ISO Acknowledgement 59904 ISO Request 60160 ISO Transport Protocol, Data Transfer 60416 ISO Transport Protocol, Connection M. 65240 ISO Commanded Address 60928 ISO Address Claim 126208 ISO Command Group Function 126992 System Time 126996 Product Info 126998 Configuration Information 127233 Man Overboard Notification (MOB) 127237 Heading/Track Control 127245 Rudder 127250 Vessel Heading 127251 Rate of Turn 127252 Heave 127257 Attitude 127258 Magnetic Variation 127488 Engine Parameters, Rapid Update 127489 Engine Parameters, Dynamic 127493 Transmission Parameters, Dynamic 127500 Load Controller Connection State / Control 127501 Binary Status Report 127503 AC input status 127504 AC Output Status 127505 Fluid Level 127506 DC Detailed Status 127507 Charger Status 127508 Battery Status 127509 Inverter Status 128259 Speed, Water referenced 128267 Water Depth 128275 Distance Log 129025 Position, Rapid Update 129026 COG & SOG, Rapid Update 129029 GNSS Position Data 129033 Time & Date 129038 AIS Class A Position Report 129039 AIS Class B Position Report 129040 AIS Class B Extended Position Report 129041 AIS aids to Navigation 129283 Cross Track Error 129284 Navigation Data 129539 GNSS DOPs 129540 AIS Class B Extended Position Report 129545 GNSS RAIM Output 129549 DGNSS Corrections 129551 GNSS Differential Correction Receiver Signal 129793 AIS UTC and Date Report 129794 AIS aids to Navigation 129798 AIS SAR Aircraft Position Report 129801 Cross Track Error 129802 AIS Safety Related Broadcast Message 129283 Cross Track Error 129284 Navigation Data 129539 GNSS DOPs 129540 GNSS Sats in View 129794 AIS Class A Static and Voyage Related Data 129801 AIS Addressed Safety Related Message 129802 AIS Safety Related Broadcast Message 129808 DSC Call Information 129809 AIS Class B "CS" Static Data Report, Part A 129810 AIS Class B "CS" Static Data Report, Part B 130060 Label 130074 Route and WP Service - WP List - WP Name & Position 130306 Wind Data 130310 Environmental Parameters 130311 Environmental Parameters 130312 Temperature 130313 Humidity 130314 Actual Pressure 130316 Temperature, Extended Range 130569 Entertainment - Current File and Status 130570 Entertainment - Library Data File 130571 Entertainment - Library Data Group 130572 Entertainment - Library Data Search 130573 Entertainment - Supported Source Data 130574 Entertainment - Supported Zone Data 130576 Small Craft Status 130577 Direction Data 130578 Vessel Speed Components 130579 Entertainment - System Configuration Status 130580 Entertainment - System Configuration Status 130581 Entertainment - Zone Configuration Status 130582 Entertainment - Zone Volume Status 130583 Entertainment - Available Audio EQ Presets 130584 Entertainment - Bluetooth Devices 130585 Entertainment - Bluetooth Source Status Transmit 60160 ISO Transport Protocol, Data Transfer 60416 ISO Transport Protocol, Connection M. 126208 ISO Command Group Function 126992 System Time 126993 Heartbeat 126996 Product Info 127237 Heading/Track Control 127250 Vessel Heading 127258 Magnetic Variation 127502 Switch Bank Control 128259 Speed, Water referenced 128267 Water Depth 128275 Distance Log 129025 Position, Rapid Update 129026 COG & SOG, Rapid Update 129029 GNSS Position Data 129283 Cross Track Error 129285 Navigation - Route/WP Information 129284 Navigation Data 129285 Route/Waypoint Data 129539 GNSS DOPs 129540 GNSS Sats in View 130074 Route and WP Service - WP List - WP Name & Position 130306 Wind Data 130310 Environmental Parameters 130311 Environmental Parameters 130312 Temperature 130577 Direction Data 130578 Vessel Speed Components

NMEA 2000 Connectivity

1 x NMEA 2000 Micro-C port, 1 LEN

SD Card Storage

1 MicroSD slot, USB port for external drive

MFD

AIS

Receive AIS data over NMEA 2000

Cartography included

World wide basemap (not for navigation)

Digital Switching

Czone / Simrad DDS

Sonar Compatibility

One 9 pin Xsonic 1 kW Sonar port. Single channel CHIRP, 50/200 khz, HDI, Active Imaging

Waypoints, Routes, Tracks

6000 waypoints, 500 Routes with 100 max route points, 50 tracks with upto 12,000 track points.

GPS

Correction

10 Hz high speed update (internal) WASS, MSAS, EGNOS, GLONASS

GPS Receiver Channels

32 Channels

Position Accuracy

Horizontal Accuracy 3 m (9.8 ft)

Cartography

Charts Supported

C-MAP Tile (CMT) Discover X C-MAP Tile (CMT) Reveal X

Other

Interface

Multi-touch screen

Languages

-German (Deutsch) -English (English) -Dutch (Nederlands) -Danish (Dansk) -Spanish (Español) -French (Français) -Italian (Italiano) -Norwegian (Norsk) -Portuguese (Português) -Finnish (Suomi ) -Swedish (Svenska) -Icelandic (Islenska) -Greek (ελληνικά) -Chinese (中文) -Turkish (Türkçe) -Estonian (Eesti) -Croatian (Hrvatski) -Lithuanian (Lietuvių) -Latvian (Latviešu ) -Polish (Polski) -Chinese Simplified (中文) -Japanese (日本語) -Korean (한국어) -Ukrainian