Happy Diamond Anniversary,

Simrad! 2021 marks 75 years of Simrad's rich maritime history.
As a brand, we're always looking ahead to new innovations and technologies, so to celebrate, we thought we'd look BACK at some of our memorable Simrad® products over the past decades.
Many of these products are not just noteworthy for their impact at the time, but also how they influenced the broader portfolio of Simrad® products in existence today.
1. Broadband radar (solid state)
BR24 was the first solid-state radar (FMCW) launched in the recreational market and a real 'game changer' for the radar industry. A solid-state radar is a digital radar that does not have a magnetron. This meant that it had to be serviced much less and was extremely reliable. It was the first of its kind, and paved the way for all future solid-state radars in the recreational market.​​​​​​​​​​​​​​
The BR24 changed radar technology in three key ways: it used less power on the boat compared to standard radars, it was safer to be around (because it didn't emit harmful waves outside the dome), and it had excellent target definition and separation, as well as a rapid cold start and 'instant on' from standby.
It even helped change the perception of what makes a good radar. Previously, radars were always judged by the distanced they covered (i.e. - 24/36/48 nautical miles). BR24 had a smaller range, but critically, it identified those targets close to you much better than its predecessors did. When you are on a boat, seeing objects close to you clearly is far more important.
Most radars today are now defined by their target separation and clarity at close range. ​​​​​​​
BR24 also introduced a brand new shape, moving away from the spherical UFO style shape. It is now instantly recognisable on the market! BR24 also paved the way for the award-winning Halo®radars, one of the leading product ranges in the Simrad® portfolio.

BR 24 (left) changed the perception of what made a good radar and led to products like HALO Radar (right.)
2. Autopilot – AP50 + AP24
Good autopilots are all about precision. The measure of a good autopilot will be precise and confident course keeping, regardless of vessel speed or sea conditions. ​​​​​​​
The AP50 was arguably the best IMO autopilot ever made. So much so that many people are still talking about it, even today! It was designed purely for the commercial market but it was installed on super yachts and mega yachts too. In fact, it was standard on all Ferretti/Azimut boats over 80 feet in length and many other professional vessels.​​​​​​​
The AP50 was exceptional but it came from some excellent entry range products, none more so than the AP24. The AP24 cemented Simrad® as a leader in autopilots and was ahead of the rest in the recreational space.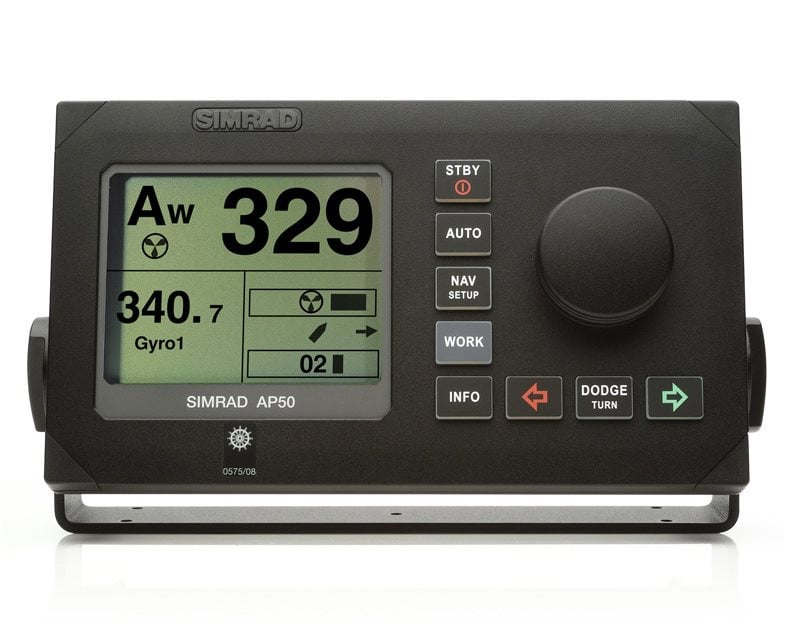 The AP50 was arguably the best autopilot ever made.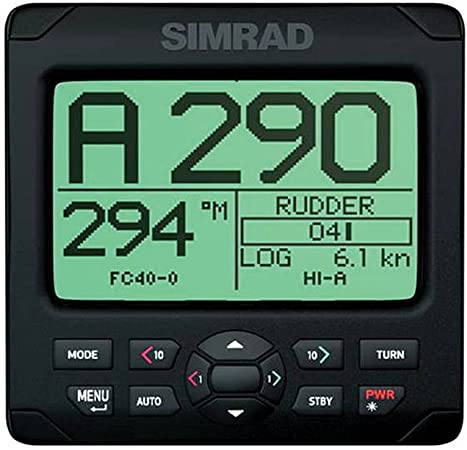 The AP24 was a recreational autopilot and led to Simrad's leadership position and subsequent, outstanding products.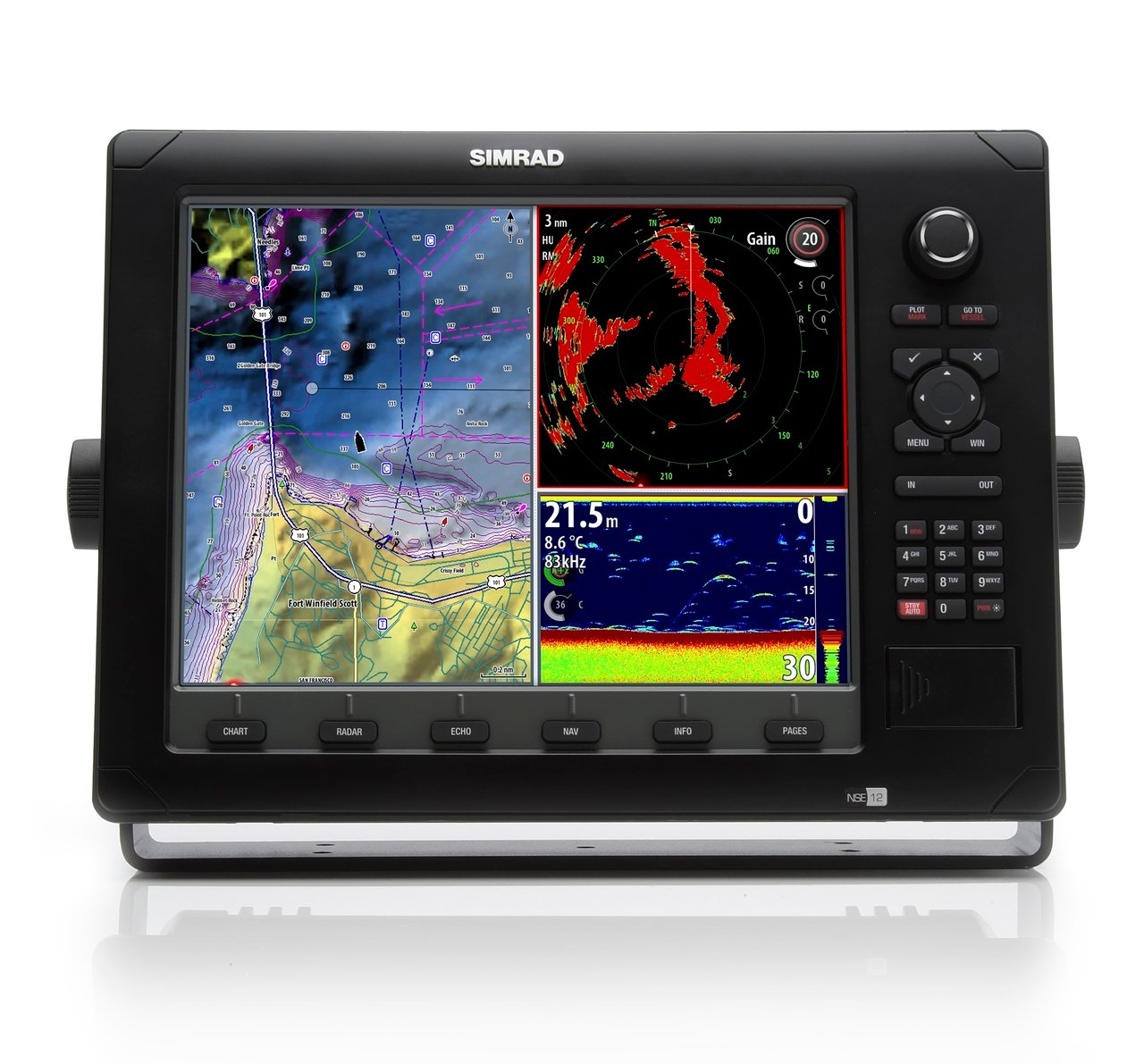 NSE 12" pictured above was built to an amazing quality and used in the professional market.
3. NSE
In many ways, NSE was an over-engineered multifunction display. Launched around 2009, it was solid and reliable and it resisted the harshest conditions out at sea. It had an aluminium case for heat dissipation and a 1.6 ghz processor - which was super-fast at the time – with direct access 'function' buttons on the front.
Simrad® supplied 50 ribs with NSE to the Saudi Arabia Special Forces. These NSE products had an extremely tough life out at sea, and they were left in warehouses withstanding temperatures of up to 50 degrees. All of the units were flawless – with only scratches!
This product was of such a high quality that it was used a lot in the professional market.
NSE also had a strong bearing on products that exist today. You still see its dedication to User Control Interface with a Rotary Controller in Simrad® products today (e.g. NSS™ and OP50™.)
4. NSOevo3S™
NSOevo3S™ is an advanced performance multifunction navigation system extremely popular with the world's largest and most prestigious boat builders. It has state of the art processing power, delivered by a iMX 8 high-performance processor and a super bright screen that can be seen from all angles. It gives the image of a glass-bridge, has outstanding aesthetics, and can split its screen six ways (due to its processing power).
It is also very thin and easy to use. In short, it has everything! Our custom boat builders (such as Azimut/Sea Ray/Ferretti/Freeman) absolutely love this product and it differentiates both Simrad® and Navico brands. NSO™ is the result of knowledge and expertise that dates back to the development of the CX series.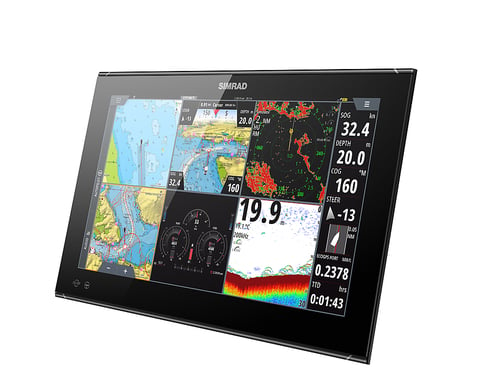 NSOevo3S is so powerful that it can split six ways on its screens, as pictured above.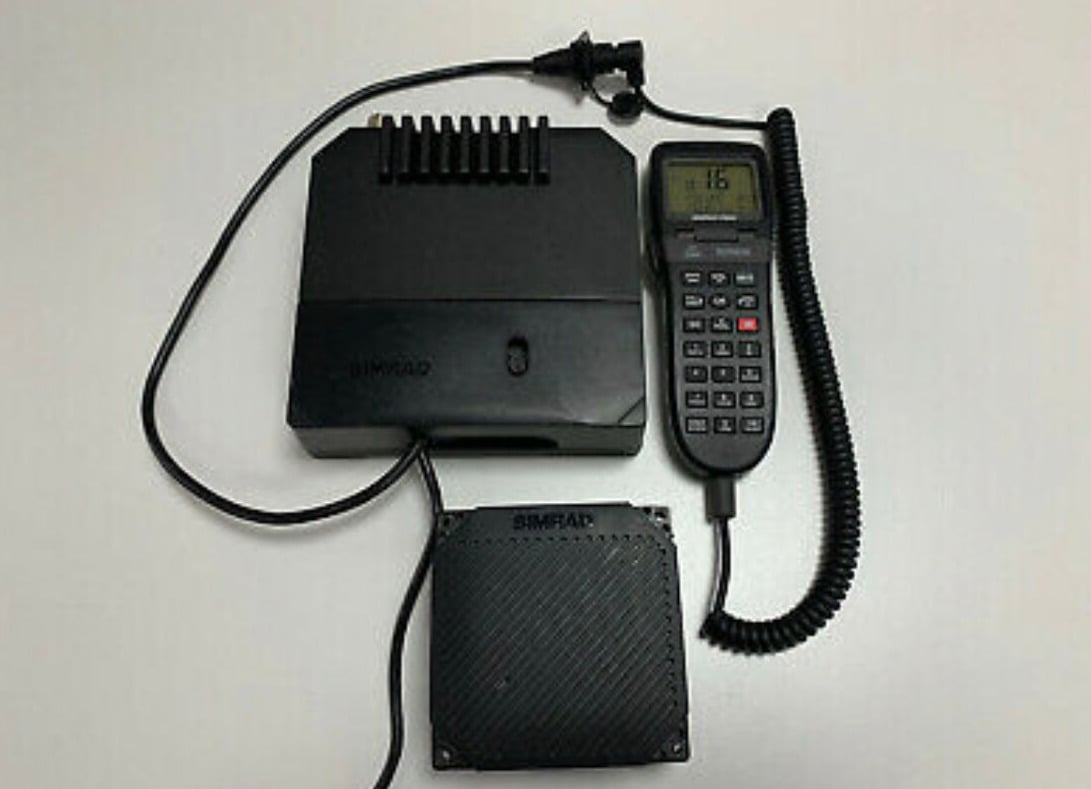 The RS80 was very advanced for its time.
5. RS80 Radio
Radios today are often overlooked and have become a bit of a commodity, but the RS80 VHF radio was one of the top radios on the market at the time. It played a key role in cementing the position of Simrad® as a leader in VHF radio, particularly with large, premium cruisers, which helped forge the Simrad® portfolio of Cruising and Megayacht solutions. It also led to the outstanding RS100 that exists today.
Aesthetically, it was a good looking product and extremely reliable (probably the most important attribute for a radio.) It was easy to use, and you could connect multiple stations which was very advanced for its time!
6. AI50 transponder
The AI50 is a transponder (released around 2013) that transmits your boat's position via radio. It's a brilliant security tool that is standard on super yachts and within commercial shipping.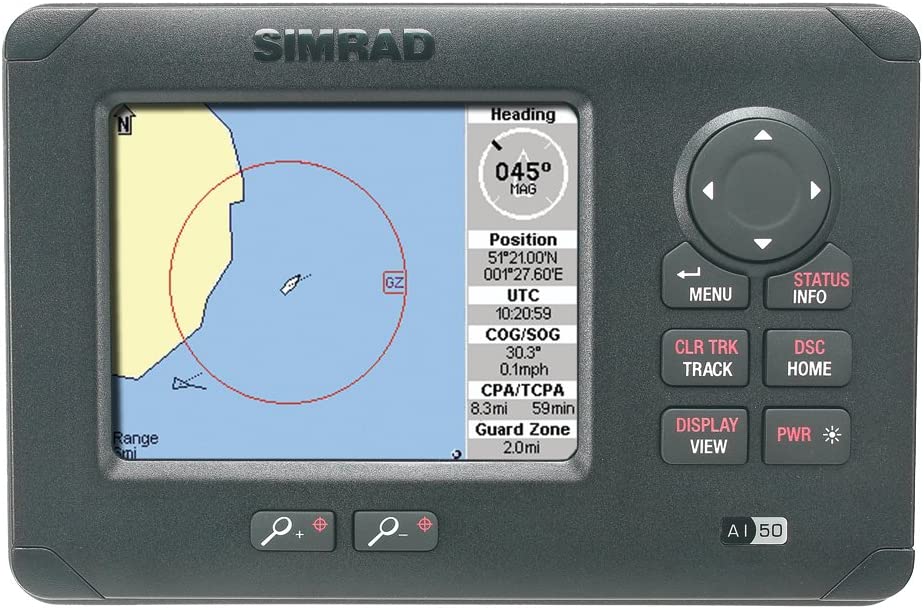 AI50 stood out for being extremely competitive on price and ultra-reliable.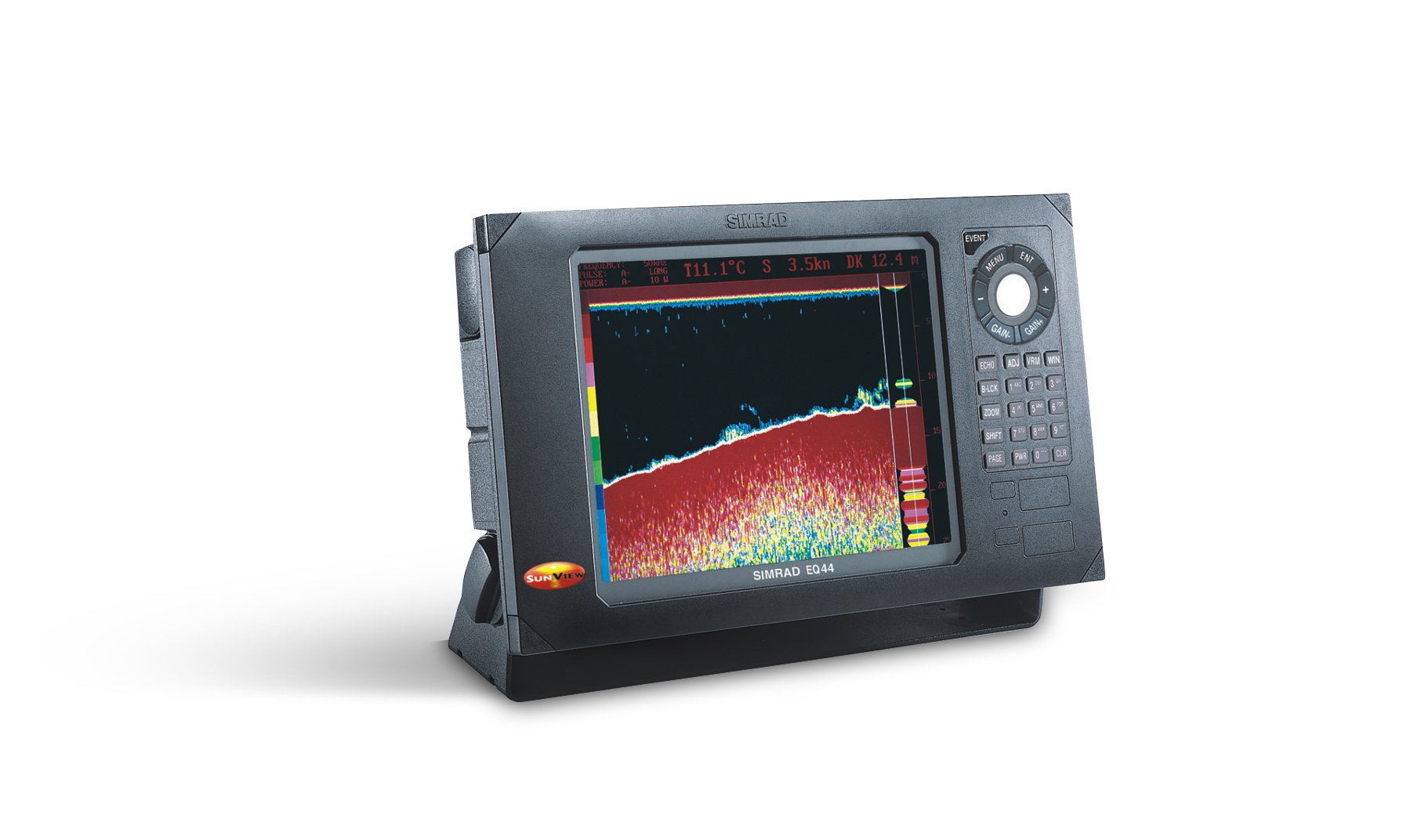 EQ44 is old for today's world but it is still remembered by customers today.
7. EQ44 echo sounder
Back in the early 2000s purchasing a marine electronic device that combined charts, radar and echo sound was not that common. Most users purchased products that displayed them separately. The EQ44 was developed by Simrad® around 2004 and was one of the best echo sounders ever. It played a key role in positioning Simrad® as a leader in performance fishing and is still remembered by customers today, over 15 years later.
The EQ44 was a high powered, sophisticated piece of electronics for its time. Developed with the CA44, a 3rd generation multifunction display (MFD), when paired with efficient Simrad® transducers, the EQ44 could detect single fish clearly and positively and provide detailed graphic depictions of the seabed.