Pushing the boundaries of marine

electronics testing
What goes 50 knots, prefers to pierce waves rather than jump over them and provides a very dynamic platform to test the capabilities of marine electronics for military and commercial applications? Answer – a 16m carbon fibre ex-military interceptor currently in the final stages of a major refit by long-standing Simrad® integrator, Ambex Ltd.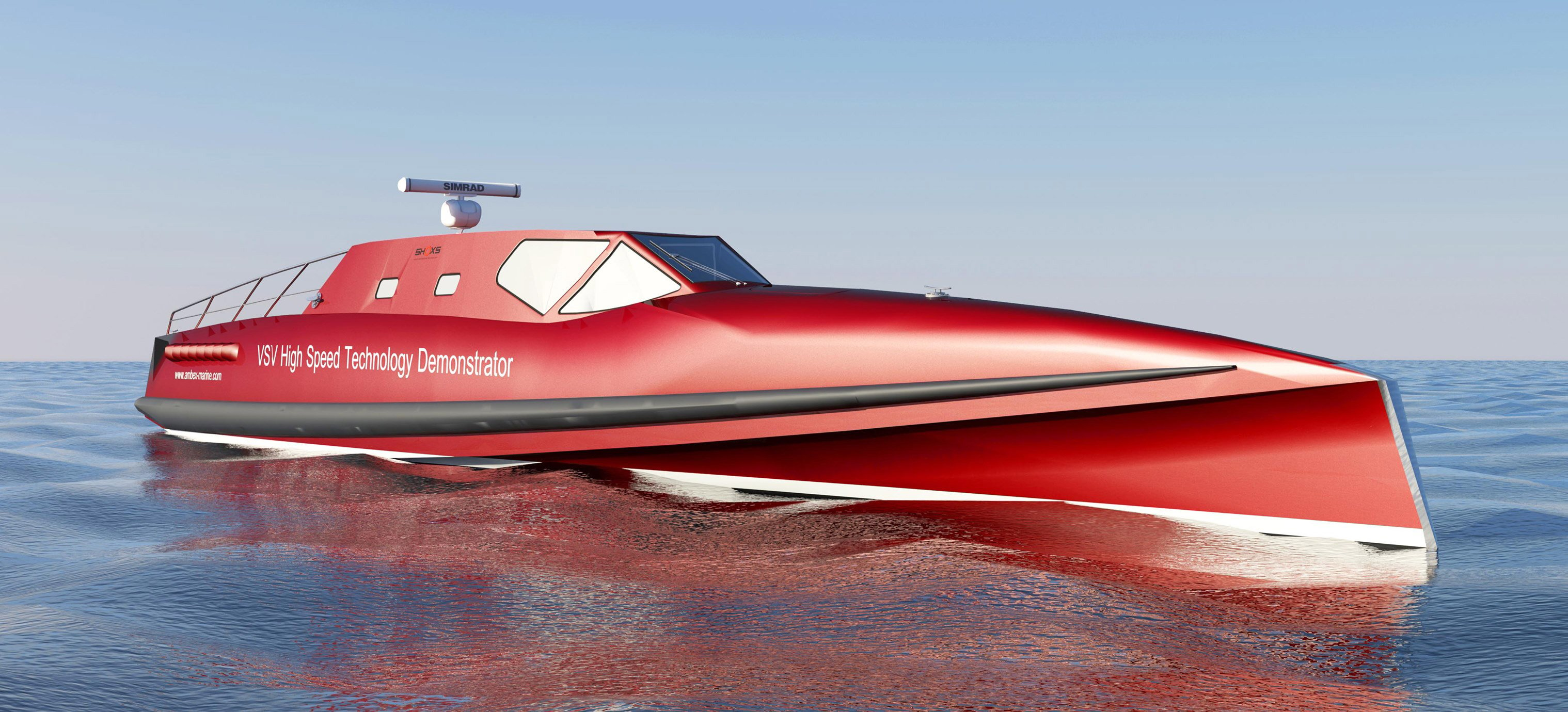 VSVs (Very Slender Vessels) emerged in the early 2000s. The design came about as a response to reduce the 20g-plus shocks being experienced by the crews of patrol and interceptor boats when pushing speed to the extreme in adverse conditions.
The VSV concept is simple – instead of slamming across the top of waves, it is designed to slice through them. This wave-piercing form with its arrow-like bow went on to be adopted by several military and enforcement services around the world. It had a hull form low to the water, making it harder to detect on radar. And it was quick! Halmatic built a 16m model with a beam barely more than 3m and a 22m version also went into production with another builder.
Enter Ambex
Ambex has been working since 1980 in the design, supply, integration, training, trials and support, of marine electronic navigation, communications, and surveillance systems. Its specialist fields are law enforcement and military applications.
They first got involved with the VSV when it was being produced for various armed forces and paramilitary organisations around the globe. Ambex co-owner and director, Will Smith, explains: "We were involved in the electronics, communications and surveillance fit-out for several of these VSVs originally. We maintained them and made subsequent modifications to improve capability throughout their service time. I knew that if we could ever get our hands on one, it would make a great platform for equipment and integration trials."
"Ambex doesn't operate from a showroom, preferring instead to test, demonstrate, trial, and experiment with different electronic systems using boats. Much of our work involves finding solutions that meet a specific law enforcement or military specification. Our recommendations need to be tested at sea in an environment as close as possible to intended operations."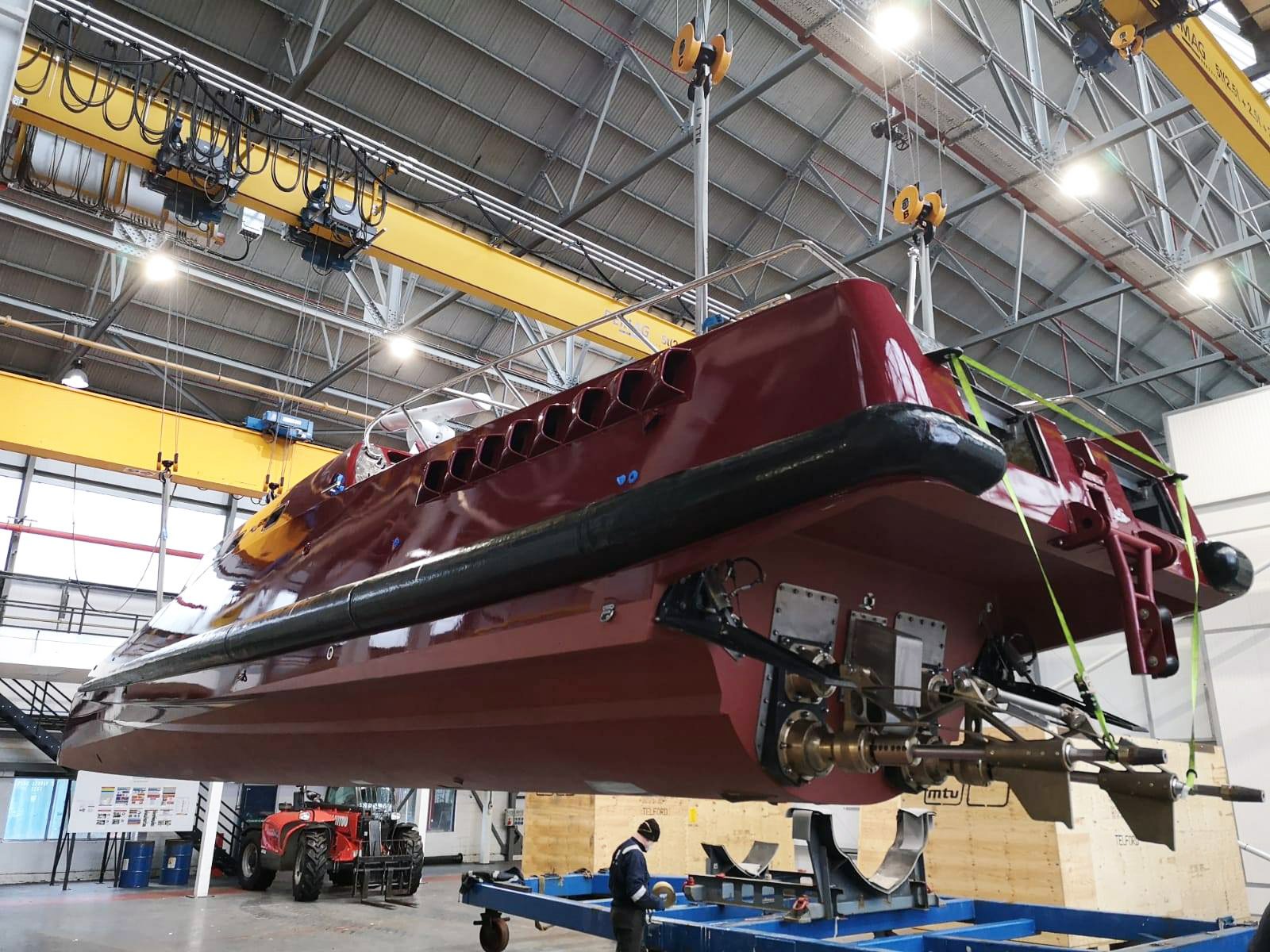 A new level of testing
Ambex has been using a 20-knot 17m monohull of traditional design called Inquisitor for some time now. After patiently searching for the chance to buy a VSV, the opportunity finally presented itself to acquire a 15-year-old 16m version in 2019 which will travel at more than twice that speed.
For the past two years the company has been embarking on a bare hull total refit, including a completely new propulsion system featuring a pair of Caterpillar C7.1 six-cylinder 7lt 500hp diesels linked to France Helices surface drives via ZF boxes. Bow and stern thrusters will greatly aid life in and around the marina.
Ambex's VSV is to all intents and purposes a new build on an existing hull, featuring a still practical but more comfortable interior fit-out, including a shower, heads, accommodation and galley. Crew safety is enhanced by use of the latest shock mitigation seating provided by Allsalt Maritime. Marine electronic installation areas will enable test kit to be swapped in and out, with ease.
Simrad® systems at the core

Ambex has a longstanding relationship with Simrad® and turned to the company for the VSV's primary systems fit-out, as Will explains: "The helm position used to look like an old Dakota aircraft with a whole array of analogue gauges. All of those have been replaced by a single Simrad® NSO™ 24in evo3 dedicated multifunction display. The navigator's position has its own NSO 16in evo3. We've added an outside driving position, to aid manoeuvring in harbour and this has an NSS™ 9in evo3. These screens will enable us to monitor and control all of the VSV's key functions from any of the positions.
"Simrad® has always made the best autopilots in the world, so it made sense to specify an AP™2004 autopilot and we are integrating a HS60 electronic GPS compass sensor for precise heading information. We are also utilising a Simrad® IS42™J digital gauge to act as the interface between the engines and our NMEA2000™ network.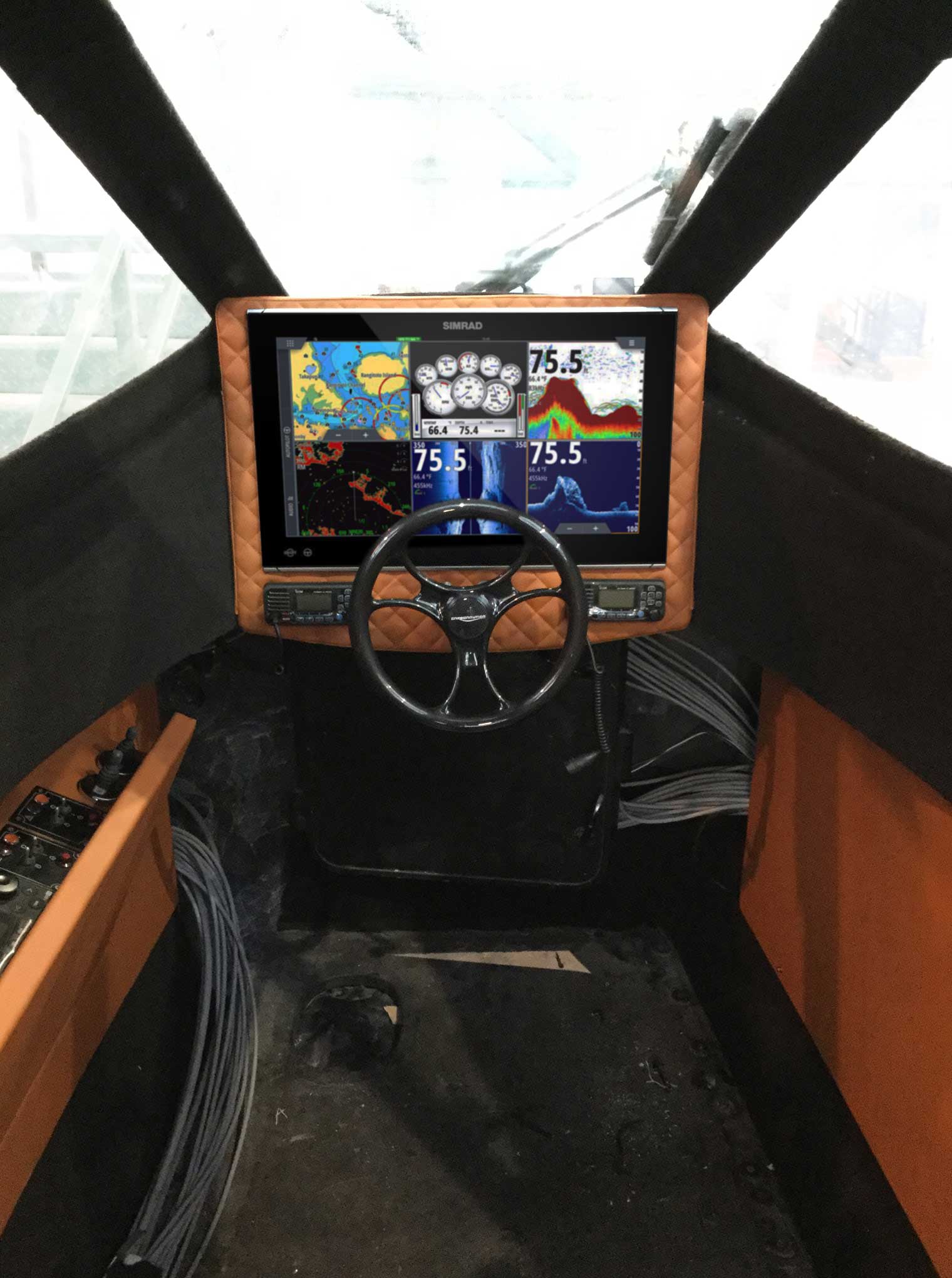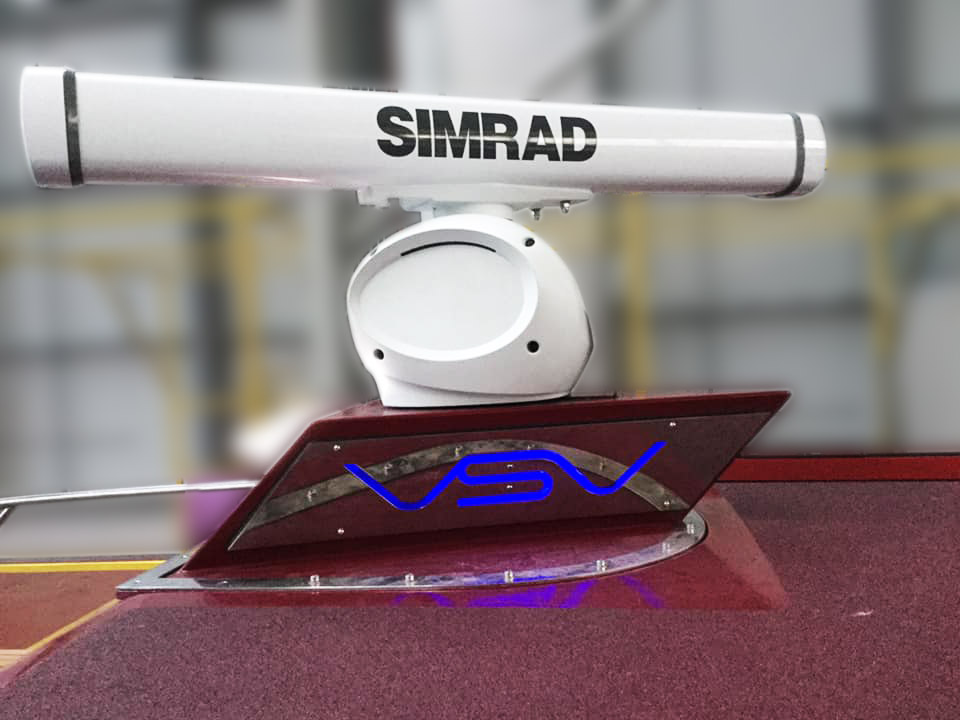 Our choice of radar is different to the norm for wave-piercing boats, which are usually equipped with a closed radome type to protect the array from green water impacts. The VSV's design means it has restricted visibility from the main helm position and it can cover nearly a mile in a minute at top speed. Having the best radar picture at low and high ranges is important.
We already have a lot of practical experience of the very high performance of the Simrad® HALO® -3 pulse compression radar from our other test boat. To help protect its open array, we have created a carbon fibre mount with a wave splitter to redirect green water. It is typical of what we do for our clients, to design an engineering solution that addresses a specific problem."
Test missions

Once fully commissioned, the VSV will be handling a number of assignments, including serving as a high speed test bed for Simrad® equipment. Ambex is working very closely with Simrad® on a current Ministry of Defence contract covering new training, diving and passenger transport builds and the VSV will greatly extend the capability of trialling new marine electronics integrations for vessels covering a number of duties.
The connected design of the Simrad® installation also makes it a perfect test bed to work in the field of autonomous system research. "With SDK (Software Developer Kit), the fully integrated autopilot, radar and electronically-managed engines means we can interface with third-party solutions for unmanned boat control very quickly. The VSV is also the kind of vessel that you could send over the horizon and not worry that it has turned itself upside down, unlike a conventional planing boat."
Ambex also anticipates the VSV will also make a very good high speed autonomous vessel chase boat, or even a pursuit tender for the latest generation of foiling yachts. Given America's Cup foilers are now hitting 50 knots, the emerging generations of new sailing vessels are now outrunning many powered craft.
First and foremost though, the Ambex VSV is there to serve its test function. Although the g-loading will be less than a broader-beam boat at speed, the dynamics at play will provide a suitably tough test of the hardware, integration and user ergonomics.
"Because the boat is ours, we can do what we like with it," Will says. "We're a small company and can make instant decisions to change the configuration to whatever is required, for a given specification."
The VSV will work in the UK from the former Royal Naval Royal Clarence ordnance yard, now a marina within Portsmouth Harbour, just a few minutes from the open sea. If you do your boating in the Solent area or plan a visit this summer, look out for a rooster tail of spray from the VSV's surface drives. It might well be Ambex out testing future configurations of marine electronics.