Simrad Yachting delivering innovation –

Electric Ferries New Zealand
Global economic pressures and the increased focus on environmental considerations drive innovation in boat building, but vision, drive and a collaborative approach also deliver stunning results.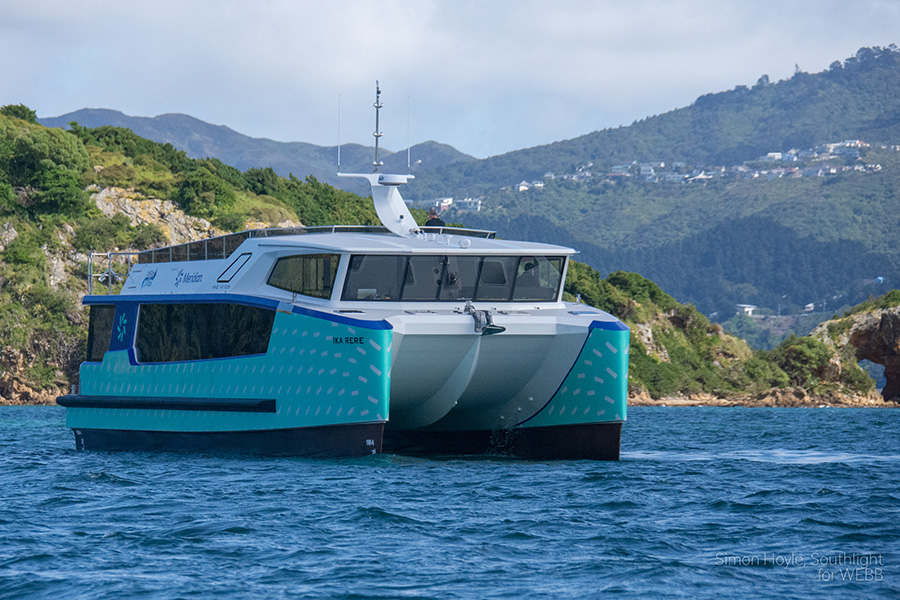 Simrad Yachting is a critical partner in providing marine electronics systems to groundbreaking engineering projects.
One example is the recent launch of the Ika Rere, a 19m fully electric high-speed passenger ferry built for East by West Ferries in New Zealand. This innovative vessel entered service in March 2022 as a landmark public transport project for the Greater Wellington Region and is the first electric ferry operating in the Southern Hemisphere.
The project was the vision of East by West's CEO, Jeremy Ward. He wanted to build a new ferry for the Wellington Harbour route that would set new benchmarks in engineering technology and sustainable initiatives while addressing the commercial reality of reduced patronage and increased fuel prices.
A recent initiative by the New Zealand government to introduce half-price fares provided a viable pathway to recover passenger numbers and underpinned the project.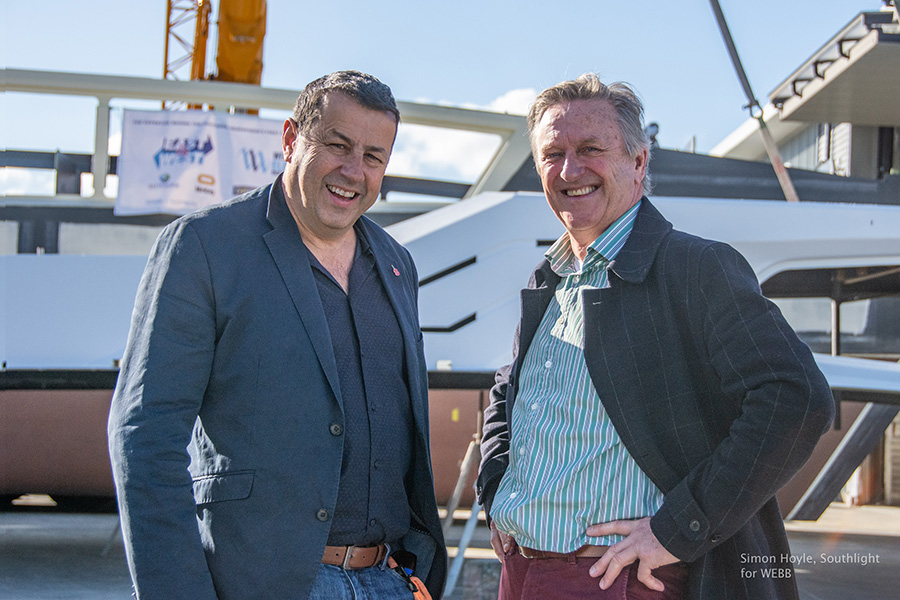 The vessel had to transport 130 passengers, have a service speed of 20 knots to meet scheduling requirements, and be fully electric and reliable, with no backup diesel propulsion.
Jeremy had built East by West's last boat in Whangerei some 15 years earlier, where long-term partners McKay undertook the wiring installation.
East by West required specific run rates and recharge time as part of the build specification. Detailed calculations confirmed the feasibility of commencing the project.
Lead design and technology partners were Simrad® (marine electronics), McKay (electrotechnology specialists), SSC Marine (naval architecture and design consultants), Gurit (composites and lightweighting) and Retyna (EV consultants).
Leading edge marine electronics
Simrad® was already a partner with East by West with their marine electronics in their other boats. For Ika Rere, installers McKay recommended Simrad® as the optimum choice to meet this high technology project's requirements.
Ben Haselden, Marine Manager of McKay Co, NZ, commented: "We proposed the Simrad® platform for several reasons. The crew already used it and were familiar with the performance of the equipment. It fitted the brief in several different areas including functionality, ease of operation, reliability and aesthetics. Most importantly, it offered screens for the ship's automation system that looked the same as the MFDs.
"The system has performed brilliantly so far. We have had a long history of installing Simrad® systems, so we knew the system would be a good fit for what East By West Ferries needed."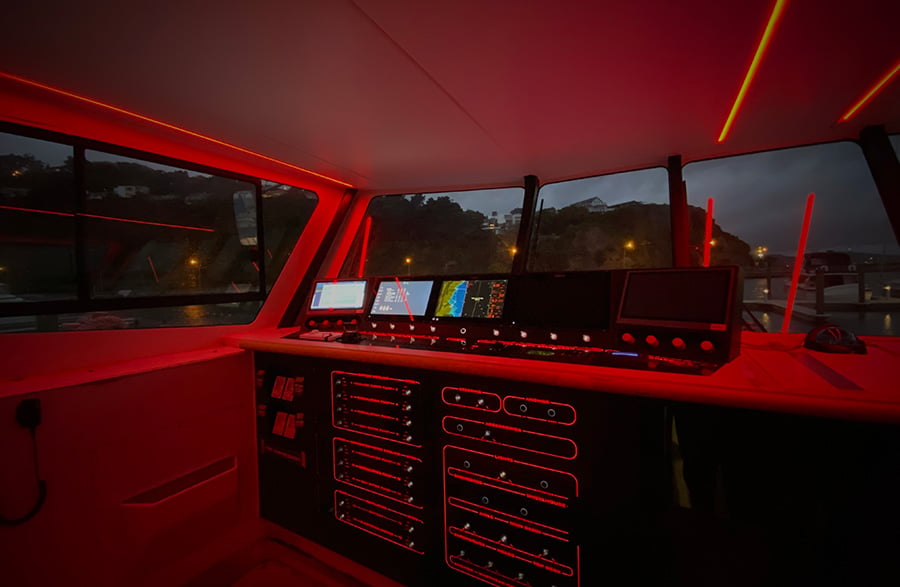 Simrad Yachting Product Director, Mat Hooper, was instrumental in consulting over the options and selection of the steering systems. The final specification installed was far more of a commercial grade than expected, providing more exacting capabilities, and increased control and options than initially thought possible.
Core components of the build included: a 16in NSO™ MFD primary chart plotter, one Halo® 24 radar and two 16in HD Simrad® screens for the ship's automation system. A pair of AP™44 autopilot computers were teamed with an AP™48 rotary autopilot head, OP12™ autopilot controller, FU80 remote control and a JS10 joystick (the pilot is the primary steering system for the vessel), together with an HS75 GNSS compass.
The innovative design and construction of the Ika Rere highlights the benefits of all build partners collaborating from the onset. The boat is very space age in its looks, and the Simrad® helm adds to that feeling.
Innovation in the build
Identifying efficiencies in the build was critical as sustainability was high on the agenda. It influenced the material choices, construction process and build management.
An energy-efficient catamaran hull design minimised weight, reduced resistance, and required less power. The team invested NZ $25,000 in one area alone to save 25kg.
The electric propulsion and power management system was custom developed for Ika Rere, integrated with the Simrad® electronics and the intelligent battery management system.
The advanced battery management system (BMS) provides system supervision, delivering safety functions, real-time system capacity and health data. Reduced energy storage allowed for a lighter, lower-cost onboard storage system.
An advanced algorithm supplies a constant estimate of the vessel range, using benchmarked conditions and real-time feedback of the vessel's performance, linked to the Simrad® system. The VCAM provides the skipper and crew with dynamic visual performance data and an overview of all the vessel's systems at any time.
The ferry is specified to complete one return run of 25km before charging at the dockside at a rate of 1MW for 15 minutes while passengers disembark and board.
The electrical system is optimal for a 20 knot, 25km round trip at total passenger capacity. However, the ferry can operate at lower speeds for significantly longer distances and times between charges.
Benefits of the project
East by West Ferries is achieving significant savings in its operational and maintenance costs. Ika Rere has outperformed each design criteria since launch, delivering over and above expectations regarding finances, environmental impact and sustainability.
Maintenance is less than conventional ferries due to Ika Rere's composite construction, which offers superior fatigue properties and corrosion resistance. The battery electric system has fewer moving parts than a diesel engine allowing for 50,000 maintenance-free operational hours on the electric motor.
Ika Rere is 1500kg lighter than previous builds offering less resistance than the designers expected and faster than the operator's diesel vessels. The expectation was for a service speed of 20 knots. The first (reduced power) sea trials achieved 22 knots, and after some tweaks, Ika Rere reached a maximum speed of 25 knots.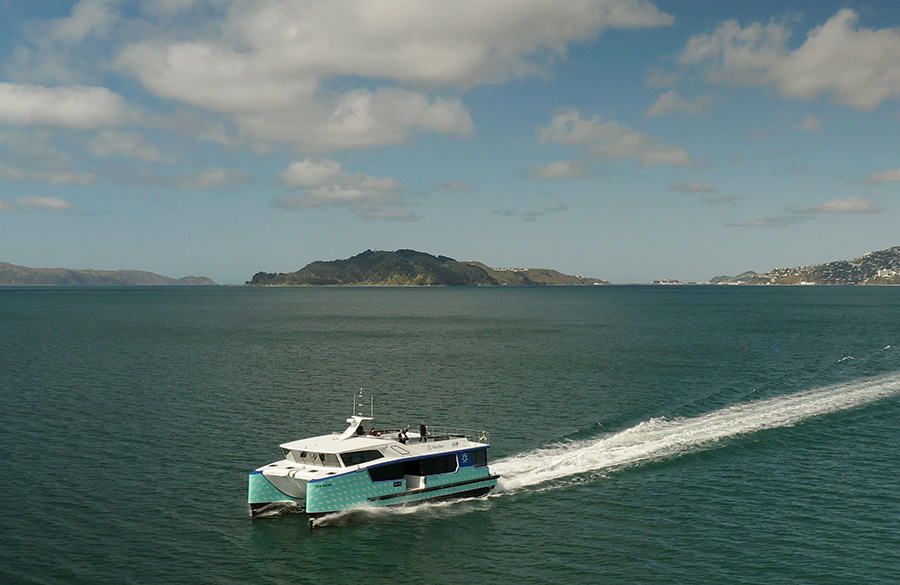 The launch of Ika Rere showcases the feasibility of new technologies in everyday public transport and demonstrates that Simrad® marine electronics are at the forefront of such initiatives.