Guided by Simrad Electronics, Plastic Odyssey Departs France

on Global Expedition
Egersund, Norway – The Plastic Odyssey team, as well as representatives from Simrad, gathered in Marseille, France this week for a week's worth of activities and events to celebrate the departure of the Plastic Odyssey scheduled for October 1 for its global voyage around the world with a goal of tackling the issue of plastic pollution in critical coastal cities on five continents.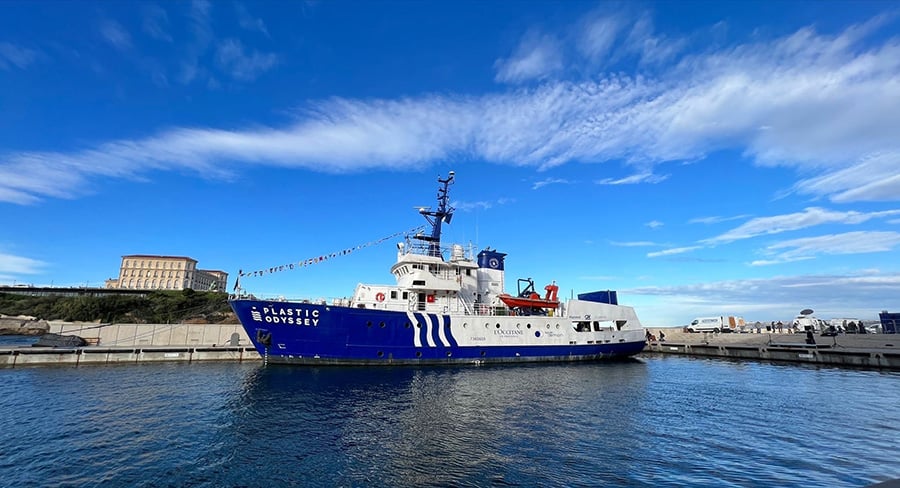 The project and global expedition has been several years in the making, led by CEO Simon Bernard and his team, and was delayed more than a year due to the pandemic. The technical preparations included a full-refit of the Plastic Odyssey into a research vessel featuring a bridge outfitted with Simrad electronics for safety and navigation.
Plastic Odyssey's circumnavigation of the globe has been roughly plotted and Simrad electronics will be critical in guiding the crew and its team safely around the world over the next three years.
Initial stopovers are planned for North African cities including Beirut (Lebanon), Alexandria (Egypt), Tunis (Tunisia), Algiers (Algeria) and Rabat/Agadir (Morocco).
For their over-arching mission, Plastic Odyssey is determined to push solutions to the issue of plastic pollution at the source of the problem in coastal areas with large population centers, educating and training locals on the economic and societal benefits of recycling while also providing turn-key recycling solutions in the process.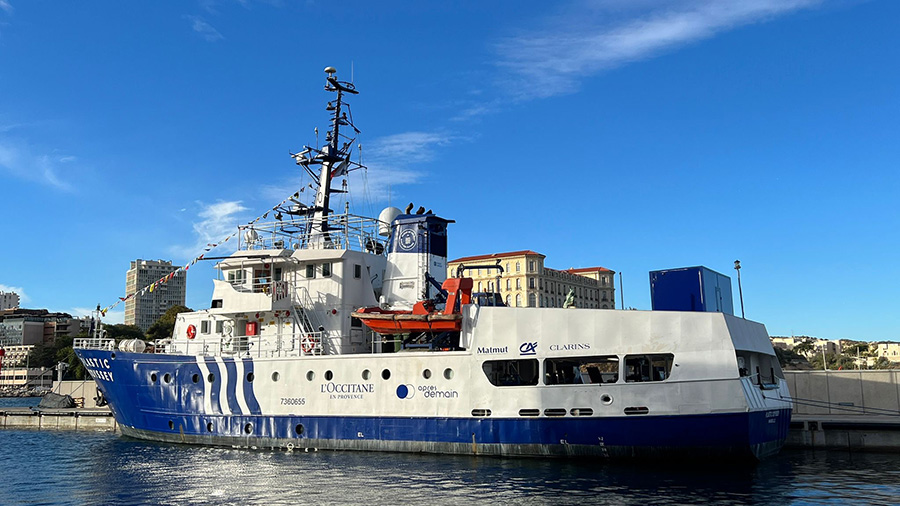 "Our main activity in each stopover will be to onboard 10 local entrepreneurs to train them to launch their own recycling facility. They will spend 15 days onboard to prototype recycled products, learn technical skills and meet B2B networks as investors, governments and clients get involved," said Alexandre Dechelotte, who oversees Plastic Odyssey's external communications. "Our vessel's stopover in each port will bring a lot of attention to the issue which we plan to use to benefit these entrepreneurs in developing alternative uses for the plastics that are normally just discarded near the seaside or into the ocean. During the 3 years of the expedition, our crew will train about 300 new recyclers around the world to turn them into a business that will be incentivized to find, collect and re-use plastic for products like bricks for construction, house roof tiles and much more."
"The journey to a sustainable future takes commitment and partnership; no one can get there alone. Ocean plastic is a wicked problem without a simple answer," said Tara Norton, who heads up sustainability at Navico Group. "Simon and Alexandre's ambition to do their part towards a plastic-free future is inspiring, but it's their willingness to learn from what is already being done by others that is truly moving. We are excited to be a part of their journey, and to have them in turn as a part of ours."
Activities the week of the departure including press events, a full briefing of the mission from Plastic Odyssey leaders to guests, a gathering of Plastic Odyssey project partners, departure ceremony for the crew featuring a parade to the dock and a flotilla of boats to send them off in the afternoon of Saturday, October 1.