The Simrad® APP
Your perfect digital companion, for any boating activity
Charts
With the Simrad® App, you have access to the latest C-MAP® cartography with high-resolution bathymetry charts, custom depth shading, satellite overlay, and thousands of Points of Interest including ramps and fuel near you. The maps are continuously updated and carefully crafted to provide you the most important information at any given time.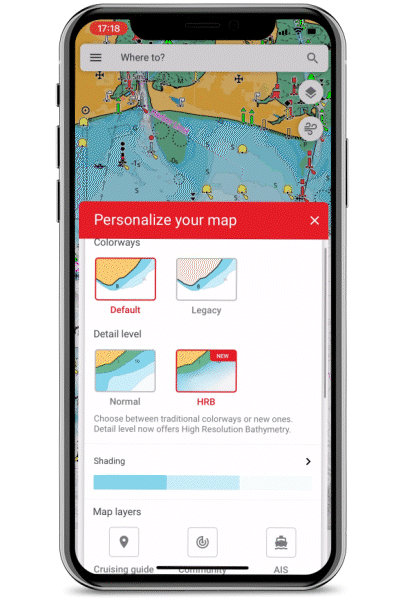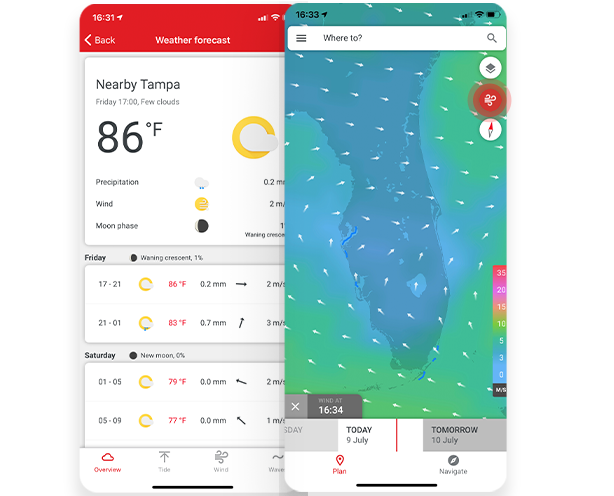 Weather
The Simrad® App provides detailed weather data to help you plan but also stay safe on the water - whether through the app's general weather forecast or the charts real-time Weather Overlay feature. It includes data on sea-state, precipitation, wind, temperature, tides, waves, the moon phase and much more.
Sync
Synchronise your planning data with your Simrad® multifunction display anytime, anywhere. The Simrad® App allows you the freedom and flexibility to save your waypoints, routes and tracks in the app at home or on your display on the water and simply synchronise the two at any time.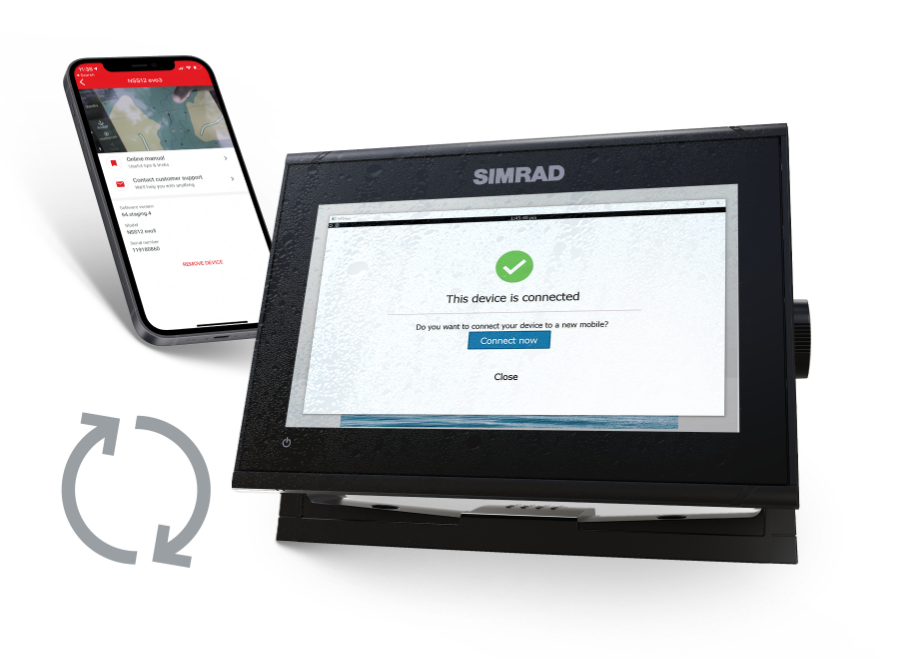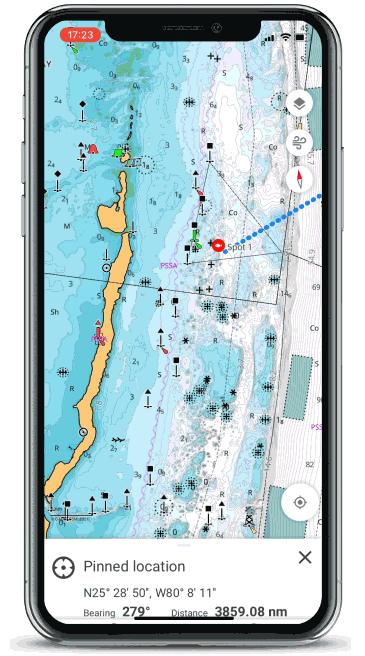 Autorouting
The best and easiest nautical routing in an app, Autorouting lets you plot a route or quickly check your ETA. Just set your starting point and destination and the app will automatically generate the best route for you.
Chart Personalisation
Personalise the map to your liking, including chart colourways and detail levels, map rotation, and even your boat data such as height and depth limits and much more.
Personal waypoints, routes and tracks
With the Simrad® App you can create, access, edit and share your waypoints, routes and tracks anytime, anywhere.
Points of Interest
Explore thousands of points of interest such as marinas, harbours, beaches, shops and much more.

Mirroring and Control
Mirror and remotely control any connected Simrad® multifunction display through the App, offering the ultimate freedom and control on board.

Traffic and AIS
Community Traffic allows you to be seen and see other app users around you. With AIS, view boats with class A and B enabled AIS within a 100km radius, without sharing your position.
Device Help & Support
Register and connect your Simrad® devices to the app and access a library of manuals, guides and how to videos.
Anchoring Alert
Use your GPS position through your Mobile or Tablet to set an Anchoring Alert. Be notified if your anchor starts to drag away from your set anchoring point.
FREE
Up-to-date nautical charts
Personal waypoints, routes and tracks
Manual and Autorouting
Measure distance tool
Thousands of Points of Interest
Marine weather forecast
Weather along the route for 24 hours
Weather overlay for 24 hours
GPX import and export
Chart personalization: boat size, favourite units of measurement, favourite map type or view mode (Auto, light or dark) and more
Device registration
Device support: manuals, guides, videos
Mirroring and Control
Offline sync of WRnT
Sharing Tracks
Personalised Push Notifications
PREMIUM

Everything in FREE plus:

Offline maps (Global chart)
AIS
5-day weather along the route
Navigation: GPS data, navigation line, track record
Traffic: keep an eye on other app users around
5-day weather overlay
High-resolution Bathymetry
Custom Depth Shading
Shaded Relief

Satellite Overlay

NEW: Anchoring Alert
FREE
Up-to-date nautical charts
Personal waypoints, routes and tracks
Manual and Autorouting
Measure distance tool
Thousands of Points of Interest
Marine weather forecast
Weather along the route for 24 hours
Weather overlay for 24 hours
GPX import and export
Chart personalization: boat size, favourite units of measurement, favourite map type or view mode (Auto, light or dark) and more
Device registration
Device support: manuals, guides, videos
Mirroring and Control
Offline sync of WRnT
Sharing Tracks
Personalised Push Notifications
PREMIUM

Everything in FREE plus:

Offline maps (Global chart)
AIS
5-day weather along the route
Navigation: GPS data, navigation line, track record
Traffic: keep an eye on other app users around
5-day weather overlay
High-resolution Bathymetry
Custom Depth Shading
Satellite Overlay
NEW: Anchoring Alert
How to personalise your charts
How to use weather along the route