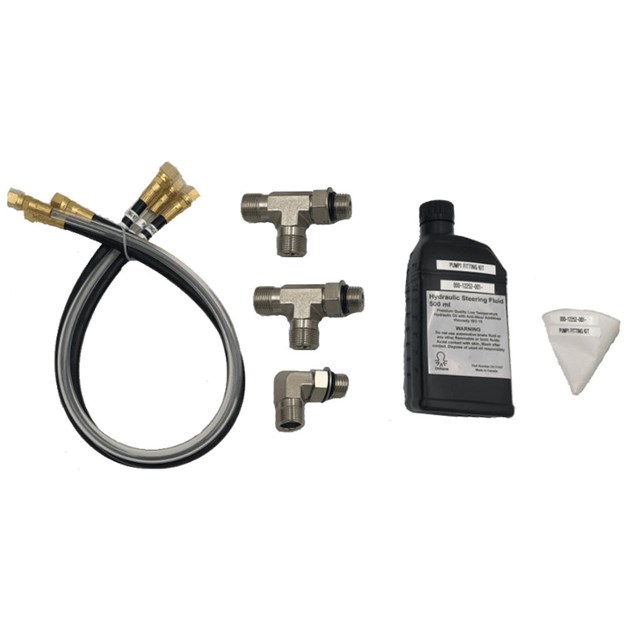 "https://www.simrad-yachting.com/assets/img/default-product-img.png?w=400&h=225&scale=both&mode=max"
Autopilot Pump Fitting Kit for ORB Steering System
SKU: 000-15942-001
000-15942-001
Autopilot hydraulic fitting kit for ORB steering System and MKII Pumps 1, 2, 3, 4 &.5 Hose configuration to suit various pump and helm layouts. Compatible with O-Ring BOSS (ORB) steering systems such as Seastar and various others.
Product details
Fitted hose kit designed for simplified ORB system installations, reducing the incidence of faulty field terminated hydraulic hoses and incorrect installation layouts.
Kit contains:
2 x T Connectors ORB-05M > 9/16"-24 UNF > 9/16"-24 UNF
1 x Right angle connector ORB-05M > 9/16"-24 UNF
2 x Hoses 5/16" dia. (Black) 1500 PSI max, 750 mm (29.5"), 9/16" UNF to 9/16"-24 UNF
1 x Hose 5/16" dia. (Clear) 65 PSI max, 750 mm (29.5"), 9/16" UNF to 9/16"-25 UNF
1 x Bottle of hydraulic fluid
1 x Filter funnel
Specifications
Physical

Dimensions W x H x D

33 x 25 x 2.5