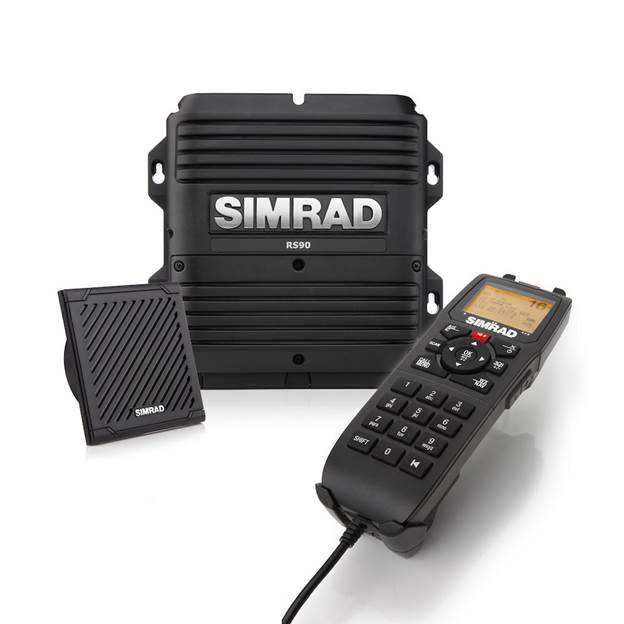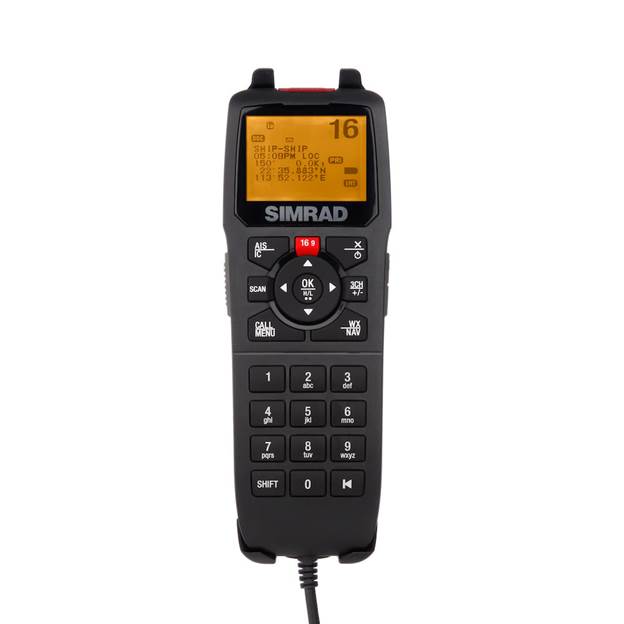 "https://www.simrad-yachting.com/assets/img/default-product-img.png?w=400&h=225&scale=both&mode=max&quality=70"
RS90 VHF Radio with AIS
SKU: 000-11225-001
000-11225-001
Stay connected in every way with the RS90, a modular and highly expandable VHF radio with built-in AIS receiver. Connect up to four wired and two wireless handsets to create the ultimate vessel-wide intercom and VHF communications system. Includes one wired handset and an external speaker.
Product details
A Modular System to Fit Any Boat
The RS90 is a modular VHF system that's expandable and customisable to suit any boat and any on-water communication needs. One wired handset is included, but a single RS90 system can run up to six separate stations: four wired, and two wireless. Multiple stations can be used as a vessel-wide intercom system, keeping crewmembers in contact wherever they are on board.

Designed for Clear Communication
This Class D DSC approved radio can make and receive DSC distress signals including your current position, and supports direct calling to other DSC-equipped radios. Dual-channel watch lets you monitor the current channel and emergency channel 16 (in the USA, tri-channel watch monitors the current channel, emergency channel 16, and calling channel 9). A record and replay feature helps to ensure you never miss an important call. One external speaker is included; outputs are provided for up to four speakers, and one optional loudhailer/foghorn.

Integrated AIS Receiver
A built-in AIS receiver lets you monitor the position of nearby AIS-equipped vessels, perfect for avoiding collisions in crowded harbours and busy waterways. AIS information can be viewed on a handset or a compatible Simrad multifunction display. The RS35 uses the same antenna for both VHF and AIS, simplifying installation and minimising wiring. AIS data is output over an industry-standard NMEA 2000® connection.
Key Features
Premium modular VHF radio
Up to 6 stations: 4 wired and 2 wireless handsets
Includes one HS90 wired handset and external speaker
Works with the optional HS35 wireless handset
Class D DSC functionality
Dual and tri-channel watch functions
Optional hailer and foghorn support
Specifications
Compass Safe

0.5m (1.5')

Recommended Fuse Rating

10A

N2K PGNs

127250;127258;129025;129026;129029;129033;129038;129039;129040;129041;129283;129284;129285;129792;129793;129794;129795;129796;129797;129798;129799;129800;129801;129802;129803;129804;129805;129806;129807;129808;129809;129810;130074;130842

Display Resolution

128x156px

Battery

12V DC

Supply Voltage

12VDC

NMEA 2000 Connectivity

1x NMEA 20000 Micro-C port, 1 LEN

Warranty Period

2 Years

Operating Temperature Range

-20ºC to +55ºC (-4ºF to 131ºF)

Dimensions W x H x D

211.2 x 6.50 x 195.7mm ( 8.31 x 2.56 x 7.7" )

Transmit Power

23 +/- 2 W

Horn Function

30W

Hailer Function

30W @ 4 Ohms

Intercom

4 Wired Stations 1 Wireless

Multiple Stations

4 Wired Stations with Additional 2 HS35 Wireless Remotes

Channels

55 INT;53 USA; 61 CAN; 10 Weather

Power Consumption max

78W

Backlight Color

Amber

Mounting Type

Bracket

DSC Class

Class D

Handset type

Handset

Approvals Compliance

ITU-R M493-13 US Models; EN300-338-3 EU Models

Waterproofrating

JIS-7

Interface

Keypad controls

NMEA 0183 Sentences supported

Output:DSC,DSE,VDM Input:RMC,GGA,GLL,GNS

Frequency Range

Tx MHz 156.025 To 157.425 ; Rx MHz 156.025 To 163.275