Zipwake and

WhisperPower
Smart integration is what makes Simrad® displays so powerful. The ability to monitor and control all your on-board components in one place is a game-changer, making your time on the water easier and more enjoyable. That's why our list of third-party integrations is always growing, making our systems smarter by the day. And today, we're proud to announce the addition of two new third-party partners to the Simrad® integration network.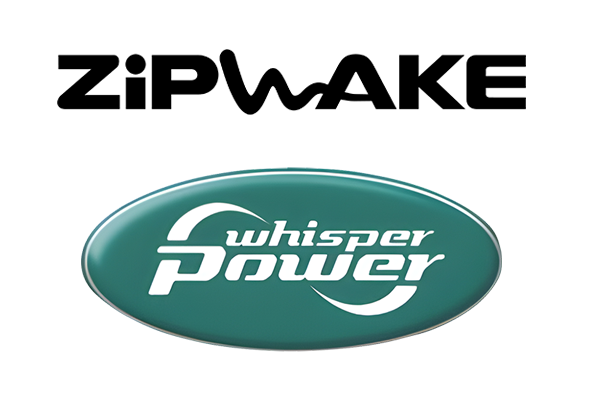 Zipwake's Integrator Module
Zipwake is a world-leading manufacturer of interceptor-based dynamic trim control systems for planing and semi-planing boats.
The launch of the Zipwake Integrator Module enables the company to provide its customers with a solution that meets the demands of future marine design and boat building. As boat designs trend toward clean dashboards, larger displays, more flexibility and increased system integration, the new Integrator Module enables such clean dashboard solutions by connecting Zipwake's fully automatic trim control system directly to multifunction displays (MFDs) and/or smart devices for seamless integration with intuitive and easy control.
This eliminates the need for a separate control panel on the dashboard, answering high demand from the market and boatbuilders.
The integrator module supports connections to a wide range of MFDs via an ethernet interface and lets users configure, operate, monitor, and update the system via the Zipwake application directly on their MFD. The rugged, waterproof design of the Integrator Module allows for flexible installation, e.g., behind the helm/dash, on the flybridge or in the engine room.
WhisperPower
WhisperPower is an international leader in the development, production and maintenance of modern zero-emission solutions such as OctoPower, along with diesel generators to cover hotel power load demand as well as e-propulsion back-up power.
WhisperCare enables the user to monitor, readout and control complete WhisperPower systems.
Thanks to the smart software all information from your WhisperPower energy system will be summarized and presented in an easy to read format, with the option to view in depth details of each device. An OctoControl Basic or OctoControl Pro is required for interface with Simrad compatible MFDs and start connecting with the WhisperPower system.