IRON Boats
What do you specify to look after the safe navigation of a high-performance range of powerboats designed to tackle the most challenging conditions? The answer for Swedish brothers Lars and Henrik Peterson is unequivocally Simrad® chartplotters as the best match-up after launching their striking new range of IRON Boats.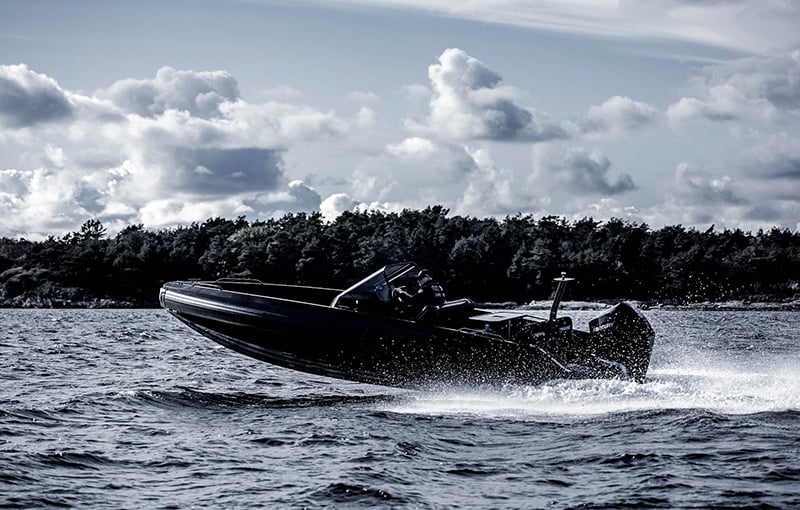 Based in Billdal, around 20km south of Gothenburg on the west coast of Sweden, IRON boats defy conventional description thanks to their innovative use of a rigid RIB-like collar. At a distance, you think you are looking at an inflatable fabric tube. However, the boat features a streamlined rigid plastic fender with in-built air pockets. It imparts significant protection, helps to throw any errant spray clear and frees up the kind of internal space you'd usually experience on an aluminium or FRP centre console boat. A reinforced bow section enables the driver to gently nose in against a quay or mothership with confidence.
The collar crowns a 23° deep-vee race-crafted hull designed to induce a drag-reducing cushion of air at speed. A hint of reverse sheer on the topsides gives each model an almost shark-like appearance. When finished in its black on black colour option, IRON Boats have the air of a stealth vessel, albeit with a much more comfortable fit out compared to the military craft it mimics.
The range is developed by the Peterson brothers in partnership with the Mannerfelt Design Team. Founder Okke Mannerfelt and his son Ted utilise knowledge gained from excellent powerboat racing success to create hulls with very high fuel efficiency and innovative features.
Simrad® systems at the core
When you build boats capable of racing across the water at nearly one nautical mile every minute, it is essential to have systems that can keep the driver fully navigationally aware at all times. All models in the IRON Boats range, from the 6.52m 647 to the new 8.32m IRON 827, are offered with an exclusive choice of Simrad® GO™ Series 9in and 12in multi-function displays.
These highly capable Simrad® chartplotter/fishfinders feature large icon-driven touch screens that are very responsive and easy to read. The GO Series seamlessly integrates with outboards from IRON Boats engine partner Mercury. It's a marriage of equipment that offers a fully integrated approach to boat management, a significant asset to any owner.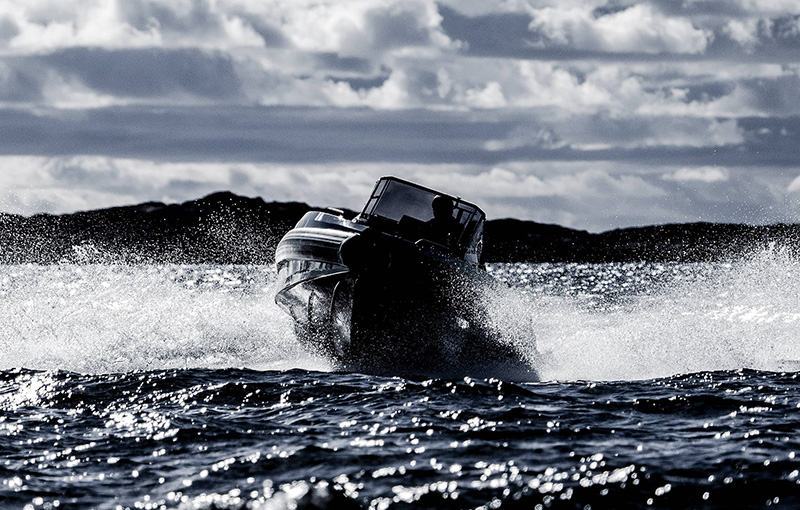 All three partners also share a common philosophy concerning the environment. In the case of IRON Boats, they create all four current models using just nine build modules, reducing waste and energy usage in manufacturing. Mercury has achieved impressive zero waste to landfill certification and the latest initiatives from Simrad® include a significant investment in sustainable packaging.
Performance with safety
The rationale behind the IRON Boats was to exploit Lars and Henrik's experience of driving boats in all kinds of weather conditions typically found at the beautiful but often harsh coast off the west coast of Sweden. They have created a craft with striking looks, high functionality, stability at speed and outstanding seaworthiness.
The IRON 767 made the shortlist for a European Powerboat Award in the under 8m category this year. More accolades will surely follow in the months ahead as IRON Boats builds on its rapidly growing reputation across Europe and beyond.